Technical data of the currency pair:

Previous closing: 106.11;
Daily range: 105.95-106.34;
Opening: 106.11;
52- week range: 105.52-125.86;
Annual revenue: -10.79%;
Change in % for the previous day -0.14.

Analytical review:
Since the beginning of this month the Yen has strengthened by over 450 points against the USD. At the moment the currency is at the support level of 105.60;
Yesterday, important Japanese statistics was released, which showed that according to the Ministry of economy commerce and finance, the volume of industrial production in the country amounted to 0.5% against 0.3% in the previous month;
This week the meeting of the bank of Japan will be held. Experts believe that the regulator will leave monetary policy unchanged: deposit rate will remain at the level of -0.1%, money base will grow up to 80 trillion JPY;
"Commitments of Traders" shows the rise in short positions by 17718 up to 127573 contracts. 86211 contracts have been opened for long positions;
Today, a meeting of the US Fed will be held, where interest rate decisions will be adopted. This event may affect market volatility and movement direction in the pair.
Summary:
A lot of news about future monetary policies of Japan and the USA and increased volatility put pressure on the currency pair.
According to "COT" large investors have increased a number of short positions.
Market movement is mixed. We recommend to enter the market from the key support and resistance levels.
Trading tips for the currency pair USD/JPY
Key levels:

Support level: 105.60.
Resistance levels: 106.2 and, 107.15.
Long-term trading, D1
Prior to the release of the US Fed interest rate decisions, changes in the Yen's movement are not expected. Meanwhile, we recommend to refrain from placing long-term transactions on the currency pair USD/JPY. It is advisable to enter the market after the release of the news, retesting of the key support and resistance levels and in case of the respective confirmation (such as Price Action pattern).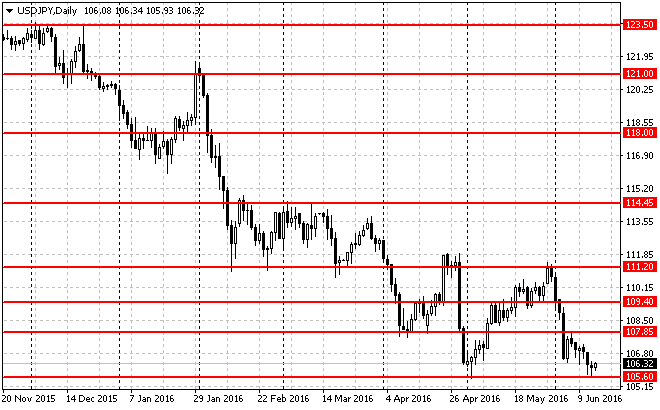 Short-term trading, М15
At the moment, the currency is traded in the range of 106.00-106.40. It is advisable to enter the market after breaking out and testing of this zone. Positions can be opened near the signal line and the nearest support/resistance levels. Risk per trade is not more than 3% of capital. Stop order can be placed slightly above/below the signal line. Take profit can be placed in parts at the levels of 50%, 30% and 20% with the use of trailing stop.