Review and dynamics
Positive dynamics of the previous month, associated with the rise of the American stock indices and the USD, has reversed.

It seems that the driver of the decline in the USD and stock indices was poor NFPR for May, released at the beginning of this month. Yesterday's decision by the US Fed and the following up comments by Mrs. Yellen raised concerns of the market participants, forcing them to deposit funds into the safer assets, such as gold Yen and government bonds. Unactivity of the Bank of Japan and today's decision of the Bank of Japan to leave credit policy unchanged, have increased demand for the Yen.

Tomorrow's trading day American indices closed in the negative territory. The index Nasdaq Composite broke down important support level of 4410.0 (Fibonacci 61.8% to the decline in the index since the beginning of this year), 4400.0 (ЕМА200, ЕМА144 on the daily chart).

Our opinion
Negative dynamics in the financial markets is likely to continue up to 23 June, until Brexit referendum.

On the daily and 4-hour chart the indicators OsMA and Stochastic suggest to open short positions; on the weekly chart the indicators also recommend to open sell positions.

It is likely that the pair will fall to support level of 4320.0 (Fibonacci 50.0%) and continue to decline to 4235.0 (Fibonacci 38.2%, lower line of the descending channel on the daily chart).

As an alternative scenario the pair will go up to the highs of May (4530.0) and April (4590.0). However, it will be possible after breakout resistance level of 4410.0 and consolidation of the price above the level of 4440.0 (ЕМа200 on 4-hour chart). However, short positions are preferable.

Support levels: 4345.0, 4320.0, 4280.0 and 4235.0.
Resistance levels: 4400.0, 4410.0, 4440.0, 4530.0 and 4590.0.

Trading tips
Sell on the market. Stop Loss: 4415.0. Targets: 4345.0, 4320.0, 4280.0 and 4235.0
Buy Stop: 4420.0. Stop Loss: 4390.0. Targets: 4440.0, 4500.0, 4530.0 and 4560.0.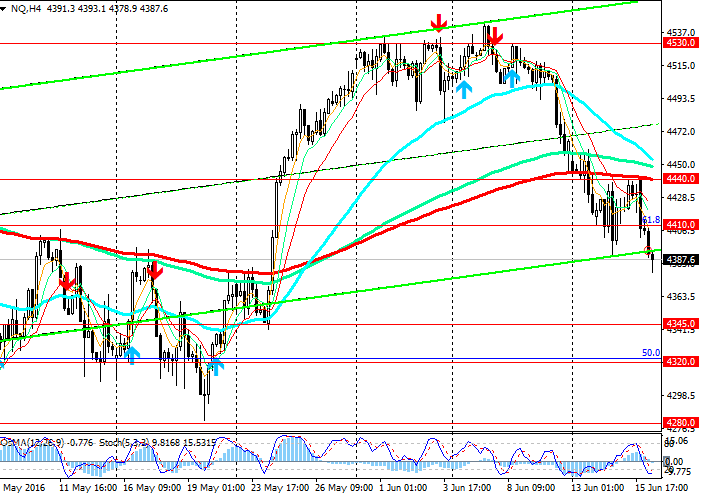 Indicators suggest to open sell positions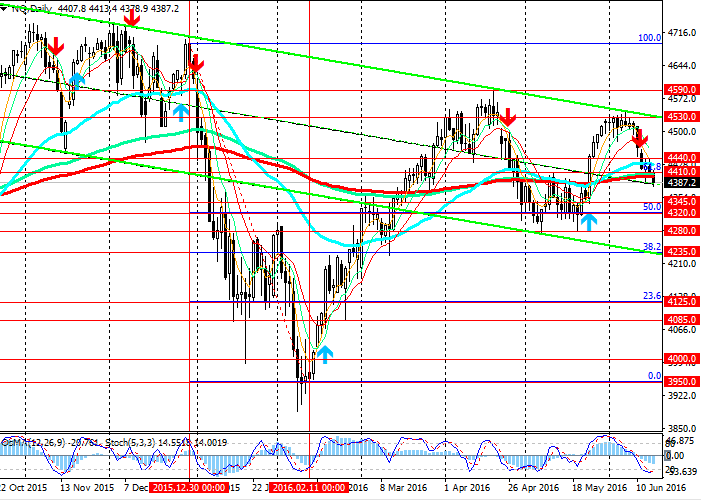 Breakout of support level of 4400.0