Review and dynamics
Inactivity of the Central Banks of Japan and the USA, and increasing uncertainty in the financial markets associated with the forthcoming referendum on the exit of the UK from the EU, forced the pair USD/JPY to go the key support levels of 104.50 (ЕМА200) and 103.70 (ЕМА144 on the monthly chart). The price has reached the level of the end of 2013.

Demand for safe-haven assets, including the Yen, continues to put pressure of the pair USD/JPY. Japanese Finance Minister, Mr. Taro Aso said today, that the rise in the Yen is very undesirable, as it is unilateral, sharp and speculative.

Our opinion
Strong negative momentum caused by the fundamental data continues to put pressure on the pair USD/JPY.On the daily, weekly, monthly and 4-hour charts the indicators OsMA and Stochastic recommend to open short positions.

However, the pair USD/JPY is near the key support levels, which are difficult to overcome without strong support of the fundamental data. It is likely that the pair will move in the range of 103.50 - 105.00 until the outcome of referendum of 23 June is known.

Exit of the UK from the EU may cause the decline in the pair 101.00. Otherwise, the pair can breakout resistance level of 108.00 (ЕМА200 on the weekly chart) and continue to rise up to 109.30 (Fibonacci 23.6% to the decline in the pair since June 2015 from the level of 125.65), 110.80 (ЕМА144), 112.35 (Fibonacci 38.2%, ЕМА1444 on the daily chart).

Support levels: 104.00, 103.70, 103.55 and 103.00.
Resistance levels: 105.00, 105.70, 106.50, 107.00, 108.00, 109.30, 110.00, 110.20 and 110.80.

Trading tips
Buy Stop: 105.10. Stop Loss: 104.70. Take-Profit: 105.70, 106.50, 107.00, 108.00, 109.30, 110.00, 110.20 and 110.80.
Sell Stop: 103.90. Stop Loss: 104.35. Take-Profit: 103.60, 103.00, 102.00 and 101.00.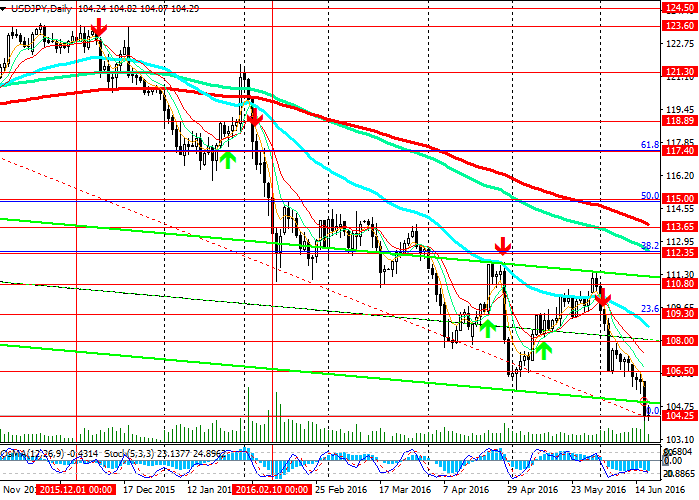 Indicators suggest to open sell positions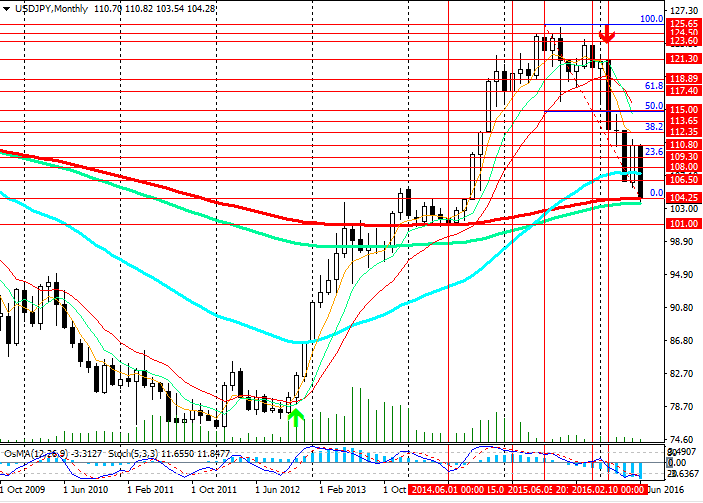 Support levels of 103.60 and 104.25.