Review and dynamics
Since the beginning of the month the price of crude oil Brent has almost reached 10-month highs at the level of 52.80. However, later, due to concern about the referendum in the UK, the price fell to support level of 47.10 (lower line of the ascending channel and ЕМА50 on the daily chart).

Today, the price is going up, continuing the rise, which started last Friday. Amid the results of the latest poll in the UK, the price went back to the level of 50.00.
Our opinion
Positive dynamics continue, the price is trying to reach resistance level of 50.70 (Fibonacci retracement of 61.8% to the decline from 65.30 to the lows of 2016 at the level of 27.05).

The price is moving up in the ascending channel on the daily chart with the upper limit at the level of 55.00 (ЕМА144 on the weekly chart).

Since mid-February, on the weekly chart the indicators OsMA and Stochastic give signals to buy, while on 4-hour chart the indicators are in favor of buy positions; on the daily chart the indicator are also reversing toward long positions.

Breakout of the level of 50.70 will return the pair to the uptrend with the nearest targets of 52.80 (recent highs and 54.00 (highs of August and October 2015) and 55.00.

It is unlikely that the price of oil will go above the level of 55.00 before the meeting of the US Fed in July. Increased supply of oil, which significantly exceeds the demand of oil, and increasing production, will again raise concern after aftermaths of disruption in oil supply will be eliminated or substituted by the oil supply from the other regions. According to information released by Baker Hughes last Friday, the number of drilling rigs in the USA has increased from 328 to 337.

As an alternative scenario the pair may rise up to psychologically important level of 50.00. If the pair breaks down support levels of 47.10 and 46.20 (Fibonacci 50%, and ЕМА50 on the weekly chart) and 45.00 (ЕМА200, ЕМА144 on the daily chart), the price may go back to the downtrend.

If the price goes down below the level of 41.70 (Fibonacci 38.2%), the pair can decline further down to the level of 36.05 (Fibonacci 23.6%) and 30.00.

Support levels: 47.10, 46.20, 45.00, 44.00, 42.50, 41.70 and 41.00.
Resistance levels: 50.70, 51.00, 52.00, 52.80, 54.00 and 55.00.

Trading tips
Sell Stop: 49.30. Stop-Loss: 50.60. Take-Profit: 49.00, 48.30, 48.00, 47.60, 47.10, 46.20 and 45.00.
Buy Stop: 50.80. Stop-Loss: 49.90. Take-Profit: 52.00, 52.80, 53.50, 54.00, 54.50 and 55.00.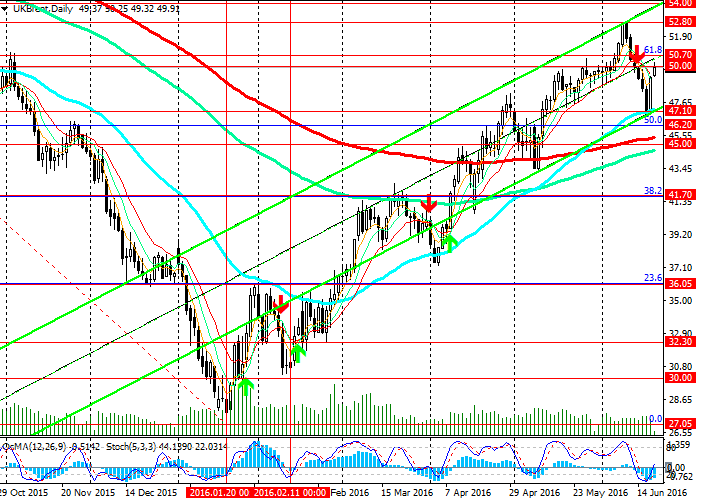 In the ascending channel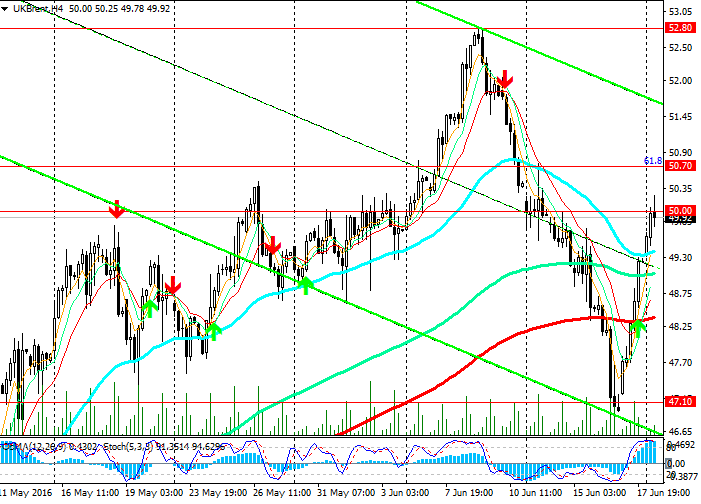 Indicators suggest to open long positions