Review and dynamics
Due to the results of the recent polls in the UK, the pair AUD/USD has been growing since the beginning of this week. Some economists believe that if the UK continues membership in the EU, the AUD may grow by at least 1-2%.

Expectations of the results of the referendum in the UK, which will be announced on Friday at 04:00, is the main driver this week generally in the market and in the pair AUD/USD.

Now, the pair AUD/USD is again above the key support level of 0.7400 (ЕМА200 on the daily chart), 0.7445 (Fibonacci 23.6% to the decline in the pair since July 2014).

The rise in the price of crude oil Brent above the level of 50.00 USD per barrel also contributed to the rise in the Australian currency, as oil and gas sector is an important part of the Australian economy and liquid gas is one of the main export items, as well as iron ore.
Our opinion
On the daily, weekly, monthly and 4-hour charts the indicators OsMA and Stochastic give signals to buy.

Currently the price is trying to break out resistance level of 0.7500. If it happens, the pair will go up to 0.7600 (upper line of the channel on 4-hour chart), 0.7720, 0.7820 (Fibonacci 38.2%), 0.7900, 0.8030 (ЕМА144 and upper line of the ascending channel on the weekly chart).

As an alternative scenario, the pair may go down below support levels of 0.7400 (ЕМА200) and 0.7380 (ЕМА144 on the daily chart and 4-hour chart) and continue to decline in the descending channel on the daily chart with the lower limit below the level of 0.7140 (lows of May) and further down to 0.7100, 0.6975 and 0.6910.

Support levels: 0.7445, 0.7400, 0.7380, 0.7290, 0.7260, 0.7200, 0.7140, 0.7100 and 0.7000.
Resistance levels: 0.7500, 0.7545 and 0.7600.

Trading tips
Sell Stop: 0.7440. Stop-Loss: 0.7480. Take-Profit: 0.7400, 0.7380, 0.7300, 0.7260, 0.7200, 0.7140, 0.7100 and 0.7000.
Buy Stop: 0.7520. Stop-Loss: 0.7480. Take-Profit: 0.7545, 0.7600, 0.7720 and 0.7820.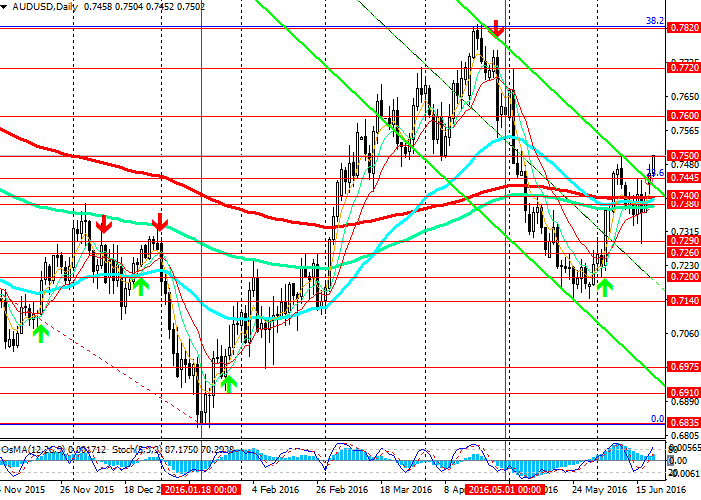 Above support levels of 0.7445 and 0.7400.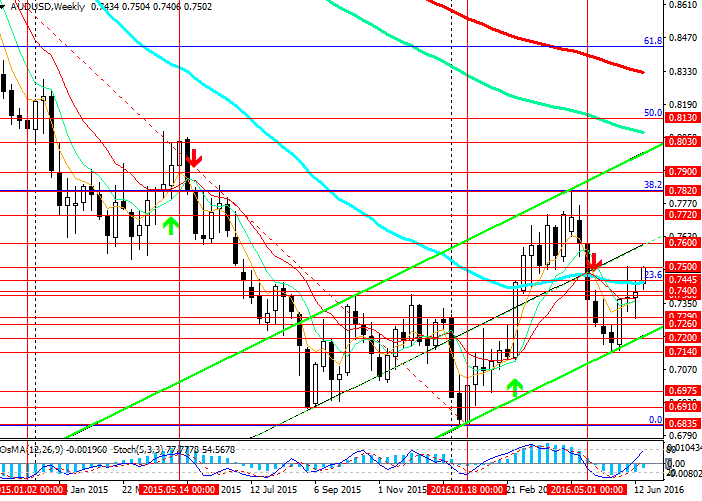 In the ascending channel