Review and dynamics
Uncertainty about the results of the British referendum, continues to put pressure on oil prices; however, positive outcome of the recent polls, expectations of the reduction of oil reserves in the USA and restrained comments of the US Fed about the prospects of the monetary policy in the USA, add positive momentum to oil prices.

At the beginning of this month crude oil Brent has reached almost 10-month highs at the level of 52.80 and continues to move in the ascending channel with the upper limit at the level of 54.00.
Our opinion
Since the opening session today the Brent is traded above support level of 50.70 (Fibonacci 61.8% to the decline from 65.30 to the lows of 2016 at the level of 27.05).

Positive dynamics continues and the price is trying to reach recent highs at the level of 52.80.

However, a trader shall be careful when opening long positions before the British referendum. Strong resistance levels are 52.80 and 54.00 (highs of August and October 2015). Recent sharp decline (for almost 6 USD per barrel) from the level of 52.80 will restrain the buyers, if the price approaches this level again.

On the weekly chart the indicators OsMA and Stochastic are reversing toward the short positions.

In case of the fundamental background for oil prices, the price will go down.

Breakdown of support level of 47.50 (ЕМА50 and lower line of the ascending channel on the daily chart) 47.00, 46.20 (Fibonacci 50.0%) and 45.00 (ЕМА144) will indicate domination of the bearish sentiments in the oil market and may bring the price back to the downtrend.

If the price consolidates below the level of 41.70 (Fibonacci 38.2%), the decline may continue to 36.05 (Fibonacci 23.6%) and 30.00.

Oversupply of oil in the world and increasing volume of production may again become a serious issue after the results of the British referendum become known, disruptions in oil supply eliminated and replaced by the supply from the other regions.

Support levels: 50.70, 50.00, 48.70, 47.50, 47.00, 46.20, 45.00, 44.00, 42.50, 41.70 and 41.00.
Resistance levels: 51.00, 52.00, 52.80, 54.00 and 55.00.

Trading tips
Sell Stop: 50.50. Stop-Loss: 51.10. Take-Profit: 50.00, 49.00, 48.70, 48.00, 47.50, 47.10, 46.20 and 45.50.
Buy Stop: 51.20. Stop-Loss: 50.60. Take-Profit: 52.00, 52.80, 53.50, 54.00, 54.50 and 55.00.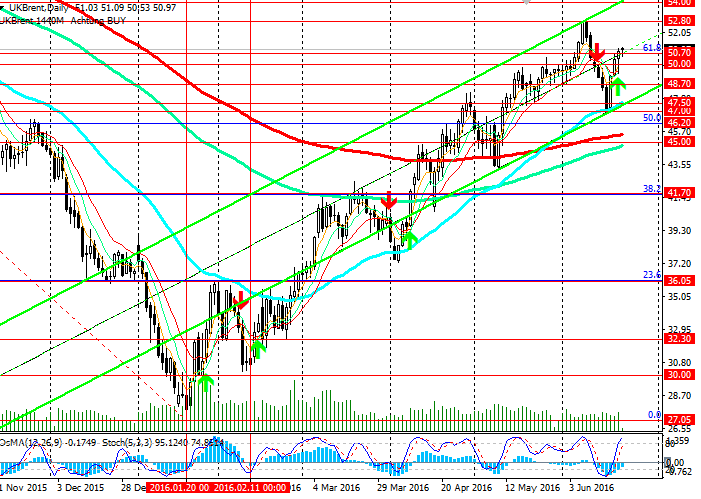 In the ascending channel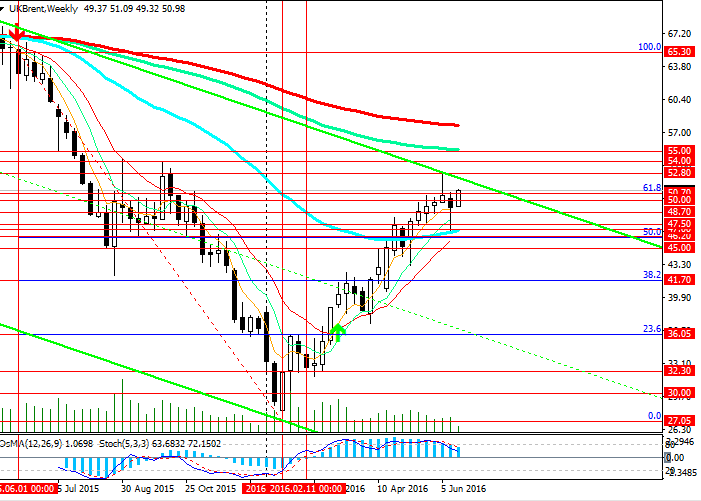 Indicators give signals to sell