Review and dynamics
Judging by publications in media, the USA try to dissuade the Bank of Japan from intervention to the currency market, which may be conducted Bank in order to prevent sharp rise in the Yen. Indirectly, it is confirmed by the changed rhetoric of Japanese Finance Minister Taro Aso. Previously, he supported all measures in order to curb of the rise in Yen, including interventions into the currency market.

However, due to the decrease of the concerns associated with Bretix and possibility that the Bank of Japan may soften its monetary policy at the next meeting (28-29 July), the pair USD/JPY consolidated in the range of 101.00 (lows of 2013-2014) and 103.70 (ЕМА144 on the monthly chart).

Our opinion
On the daily, weekly and 4-hour charts the indicators are reversing towards the long positions.

From the technical point of view the pair is undergoing upward correction to resistance levels of 103.70, 104.30 (ЕМА200 on the monthly chart), 105.60 (ЕМА200 on 4-hour chart), 106.50 (ЕМА50 and upper line of the descending channel on the daily chart), 107.20 (Fibonacci 23.6% versus the decline since June 2015 from the level of 125.65).

Movement direction in the pair in future will depend on the comments of Japanese and American monetary authorities and also on the investors' risk appetite.

The JPY, as well as the Euro and safe-haven assets is very vulnerable to fundamental factors.

Support levels: 101.50, 101.00, 100.00 and 99.00.
Resistance levels: 103.70, 104.30, 105.60, 106.50 and 107.20

Trading tips
Buy on the market. Stop Loss: 102.30. Take-Profit: 103.10, 103.70, 104.30, 105.60, 106.50 and 107.20.
Sell Stop: 102.30. Stop Loss: 102.70. Take-Profit: 101.90, 101.30, 101.00, 100.50, 100.00 and 99.50.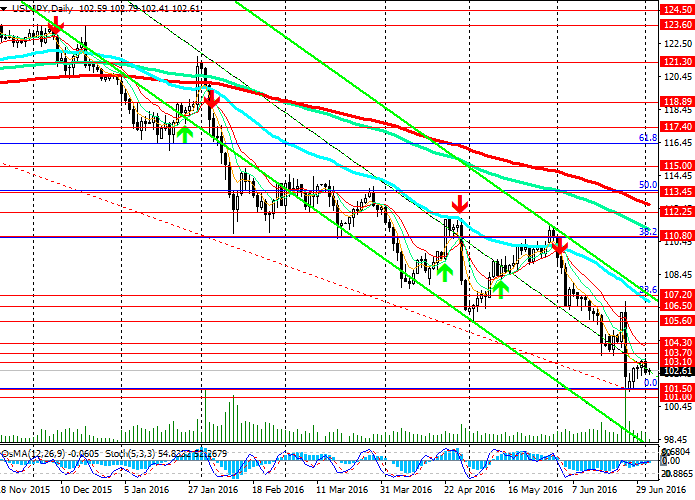 In the descending channel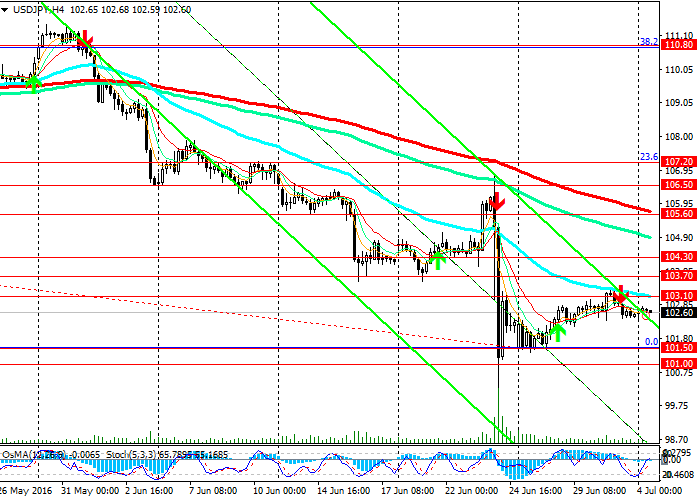 Indicators show high chance of upward correction