Review and dynamics
Concerns about the future of the global economy, caused by the exit of the UK from the EU, are decreasing, while investors' risk appetite is increasing. Positive tendencies of the oil market, as well as statements by the Fed representatives, showing that the Fed is going to soften its monetary policy, has triggered the rise in the price of commodity currencies and in the AUD. also helped the rise in

The pair AUD/USD is going up. At the end of last week, the price has exceeded important resistance levels 0.7415 (ЕМА200 on 4-hour and daily charts), 0.7445 (ЕМА50 on weekly chart and Fibonacci 23.6% versus the decline since July 2014), and continues to rise.

The rise in crude oil Brent above the level of 50.00 USD per barrel also provokes the rise in the AUD, as oil and gas sector is an important part of the Australian economy. Liquid gas and ore iron are the main items of the Australian export.

Our opinion
On 4-hour chart the indicators OsMA and Stochastic give signals for long positions, while the indicators on the daily and weekly charts are in favor of buy positions.

Now, the price is above the levels of 0.7445 and 0.7415. Uptrend can continue in the ascending channel on the weekly chart with the upper limit at the level of 0.8030 (ЕМА144 on the weekly chart).

The nearest targets will be the levels of 0.7615 (highs of June and the upper limit of the descending channel on the daily chart), 0.7720 and 0.7820 (Fibonacci 38.2%).

As an alternative scenario the pair can go down below support level of 0.7415 (ЕМА200 on the weekly chart and 4-hour chart) and continue to decline in the descending channel on the daily chart with the lower limit at the level of 0.7000 and further down to 0.6975, 0.6910 and 0.6835.

Support levels: 0.7500, 0.7445, 0.7415, 0.7380, 0.7290, 0.7260, 0.7200, 0.7140, 0.7100 and 0.7000.
Resistance levels: 0.7545, 0.7600, 0.7615 and 0.7720.

Trading tips
Sell Stop: 0.7480. Stop-Loss: 0.7520. Take-Profit: 0.7400, 0.7380, 0.7300, 0.7260, 0.7200, 0.7140 and 0.7100.
Buy Stop: 0.7535. Stop-Loss: 0.7480. Take-Profit: 0.7615, 0.7720 and 0.7820.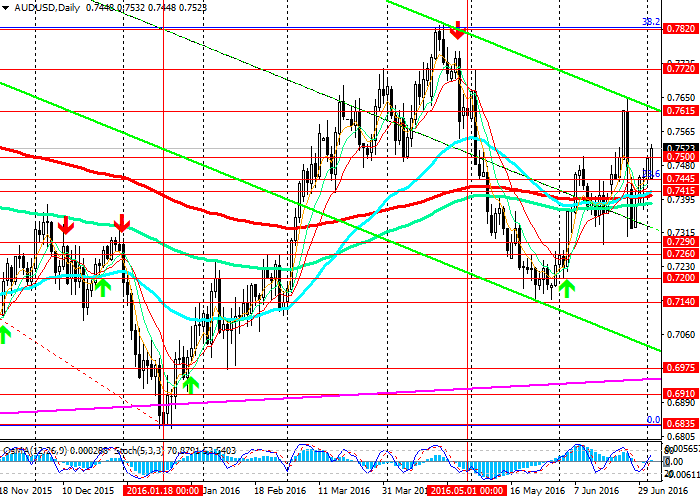 Above support levels of 0.7445 and 0.7415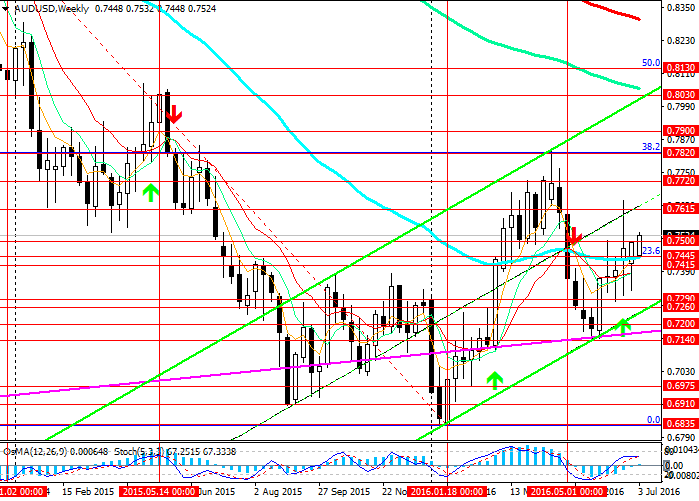 In the ascending channel