Review and dynamics
Since the opening of today's trading day, US stock indices continue uptrend, which started yesterday after the release of positive ISM PMI index in the US service sector for June and the minutes of the FOMC meeting in June. According to the minutes, Fed's authorities would like to wait for the positive macroeconomic statistics before taking interest rates decision.

Since mid-February, the index DJIA (Dow Jones Industrial Average) has steadily grown, recovering from the decline to the lows of the year at the level of 15660 after significant decline of the world stock markets at the beginning of the year.

By the end of April, the index completely regained after the fall and before the announcement of results of the UK referendum on "Black Friday" on 24 June it was close to the level of 18,100, which are the highs of this year.

On the outcome of the UK referendum the index fell by 6%, or over 1.000 points just within two days.

At the moment, the index Dow Jones Industrial Average has returned to the level of 17940, which is close to the levels of the beginning of the year. The price is also above the key support levels of 17730 (EMA50 on the daily chart, EMA144, EMA200 on 4-hour chart) and 17425 (EMA200 on the daily chart, Fibonacci 100% to a decrease at the beginning of this year).

Our opinion
On the weekly, daily and 4-hour charts the indicators OsMA and Stochastic give signals for long positions. On the daily chart the indicators are also reversing towards the long positions.

Price goes up in the wide ascending channel on the weekly chart, the upper limit at the level of 18225. Absolute high of 2015 is near the level of 18370. If the price continues to rise, breakingout the highs of June at the level of 18100, the index can reach absolute highs within the nearest 1-2 years

A lot will depend on the investors' risk appetite, as well as on the monetary policy of the US Fed. If Fed's representatives will indicate the adherence of the softer monetary policy and US economic data will be positive, US indices, including the index Dow Jones Industrial Average, will continue to rise.

As an alternative scenario the price can break down support levels of 17730 and 17425 and continue to decline in the new descending channel on the daily chart with the lower limit at the level of 17070 (lows of June).


Support levels: 17730, 17425, 17400, 17270, 17070 and 17000.
Resistance levels: 18000, 18100, 18225 and 18370.

Trading tips
Buy on the market. Stop-Loss: 17890. Take-Profit: 18000, 18100, 18225 and 18370.
Sell Stop: 17870. Stop-Loss: 17950. Take-Profit: 17730, 17600, 17425, 17400, 17270, 17070, 17000 and 16750.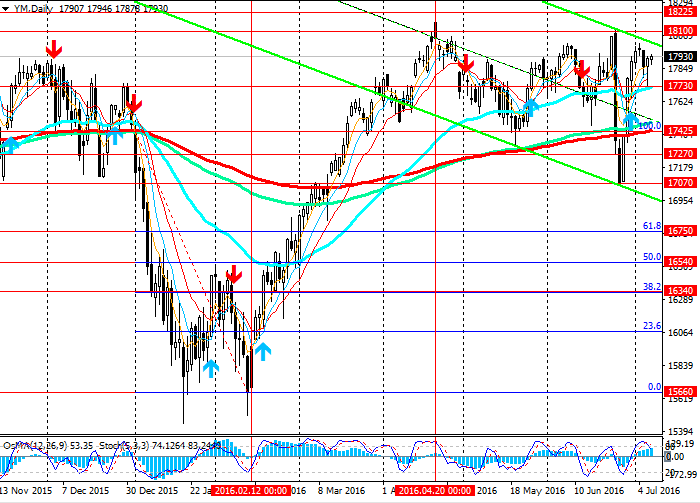 Descending channel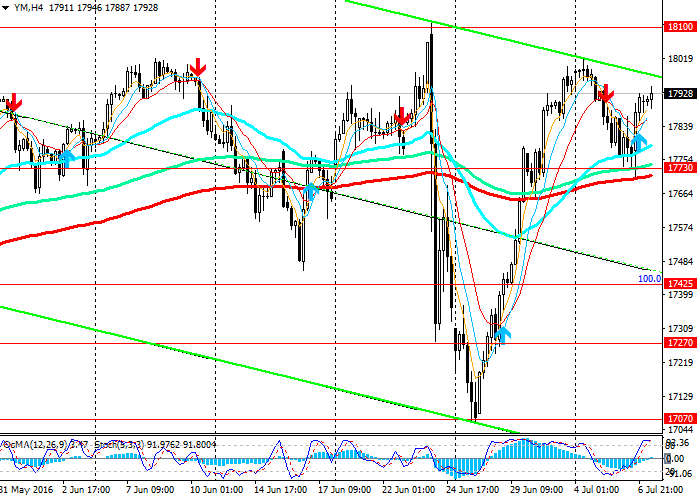 Above support levels