PMI Contractions Show Struggle for Exports

Equity markets in Asia have started the month on a low note, due mostly to less than stellar figures from China's dual PMI reports released at the beginning of today's session. Troubles are far from alleviated after the Chinese interest rates and reserve ratio requirements were cut as these latest reports remind the markets that inherent difficulties in China's economy are still present.


The manufacturing PMI showed a slowdown in the sector for the month of August. The numbers illustrate a drop of -0.3 from July, down to 49.7 from 50.0. The result was expected to be closer to 49.8, still below a reading of 50 which would indicate a reasonably healthy sector. The Caixin PMI report released at the same time printed a weak 47.3, which does not bode well for Chinese exports. Recent monetary policy changes from Beijing were designed to boost exports, an incredibly important metric for the Chinese economy, yet the final effects on exports from devaluing the Yuan were disappointing. Accordingly, a reversing trend in USDJPY downward was witnessed as markets adjusted sentiment from hesitant to bearish, only to be magnified should the pair close down at the end of the day.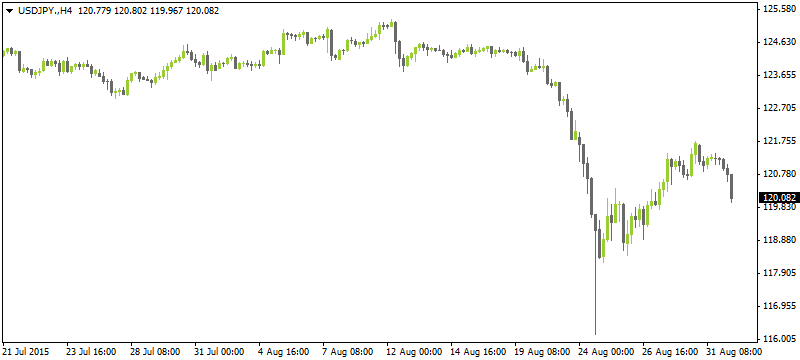 As expected, the Reserve Bank of Australia left rates unchanged according to reports from their monthly monetary policy meeting held earlier today. The rate stays at a steady 2.0% as representatives from the RBA spoke on current economic conditions in the country. While Australia's economy has been soft due to pressure on commodities prices, policymakers noted that the financial environment is moderate and that the Australian dollar is simply adjusting to a new trend in the global economy. Ripples from the global markets aren't felt as strongly in Australia, and the comments today from Bank representatives reflect this. Monetary policy will remain unchanged, yet there is room and willingness to accommodate further easing measures should it be necessary. The currency markets seemed generally indifferent to the news, with the Aussie dollar floating at yesterday's levels and even glimpsing sessions highs at 0.7149.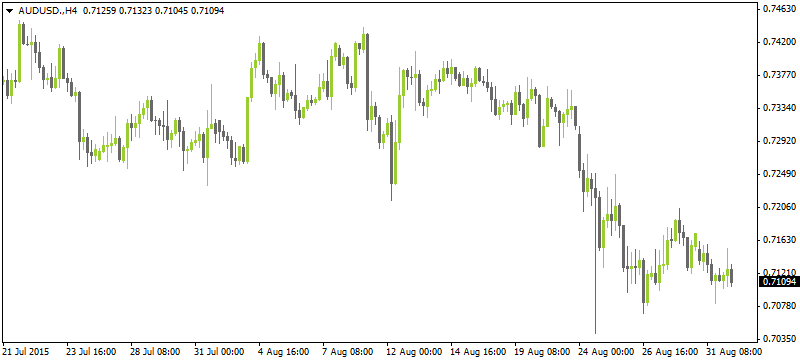 Monthly Canadian GDP is expected to reflect a 0.20% gain today and though leaps and bounds higher than July's -0.20% contraction will still not be enough to boost quarterly growth in the metric. The report set to be released today during US trading hours is anticipated to reflect an annualized GDP contraction of -1.00% from last quarter, which was already a weak -0.60%. This report will be first in the minds of Canadian bankers when they meet later this month to discuss revisions to monetary policy, which may contain further rate cuts from the Bank of Canada. USDCAD is sitting at highs around 1.3310 as recession threatens the Canadian economy. If negative quarterly GDP growth is seen the pair may find new high ground.

Apple Trading Opportunity
Apple is preparing for the release of their new iPhone 6s model this month, which has the potential to breathe new life into the stock. Apple fell to almost $92 per share last month, pushing past even the psychological level of $100 as markets capitulated. Shares closed yesterday at $112.70 amid rumors concerning the specifications of the new device. Earlier in the year Apple was trading at highs around $133.35, but since then movement has been mostly sideways, especially after a disappointing quarterly earnings report that showed poor sales figures for their Apple Watch. Now that markets are over the shock of a bad earnings report, the stock has the potential to grow depending on speculation and sentiment surrounding the new product.
Resistance: 114.50/117.36
Support: 112.01/109.46