Monetary Policy Statements from European Central Bank Arrive Today
An array of significant economic reports will be released today, including retail sales figures from the UK and Canada alongside weekly employment data in the US. Markets are watching for minutes from the ECB meeting concerning monetary policy most closely, however.
From the latest meeting of policymakers in Canada, details were released that show voting members from the Central Bank uninterested in changes to current monetary policy. Members stated that the hereby static interest rates are due to the country's meeting of expectations regarding non-resource sector growth and a rebounding economy. Third quarter GDP growth expectations are now adjusted to 2.50% annually, up from 1.50%, with fourth quarter predictions taking the opposite route and falling to 1.50% from 2.50%. Bank of Canada members also cut 2016 forward guidance to just 2.00% GDP growth, whereas before it was at 2.30%. As far as inflation goes, the BoC anticipates 1.20% and 2.10% growth in the headline and core figures, respectively for the third quarter. The good news brought about a boom in the Canadian dollar, but lost ground by the end of the day as USDCAD closed 1.23% up.
The WTI crude oil benchmark closed down -1.46% after a significant drop was experienced on the back of a Department of Energy report that showed a surprising increase in stockpiles. The closing price per barrel was $45.22 yesterday. Another surprising revelation was a key piece of data in the Energy Information Administration report showing a North American output that is staying steady. This comes after weeks of declines in production volume, with the energy outlook remaining bearish as a result of this and other events. OPEC and non-OPEC countries met in Vienna this week to discuss market conditions, but no consensus on how to balance prices has been reached. Pricing of WTI futures are currently escaping from a rising wedge pattern, which may indicate further downside should support at $44.80 to $43.30 be broken. New support may be found between $38.75 and $37.20.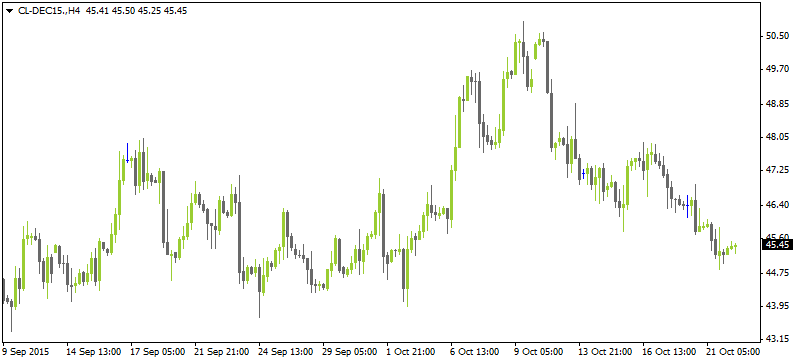 Now that the Bank of England is considering alterations to its monetary policy in the wake of tough global conditions, the rally in the Pound that had brought it to highs at 1.5490 has stalled. Although movement upwards has stopped, the Pound has been trading sideways for the last few sessions at least, with the report on retail sales today a chance to give it a boost upwards. Retail sales are expected to have increased in September by 0.30%, a 0.10% increase from last month's figure. If the report produces its anticipated results, the horizontal trend in the Pound may be broken by upwards movement as markets are able to see deflationary pressures being relieved somewhat. A miss on expectations holds the threat of the opposite being witnessed and has the potential to drive the Pound lower.

AUDUSD Equidistant Channel Trading Opportunity
After rebounding from multi-year lows, the AUDUSD rally higher looks to have run its course with momentum reversing back to the downside.  The prospect of further rate cuts from the Reserve Bank of Australia combined with improving US economic conditions has seen recent strength in the pair diminished as commodity prices remain weak and the outlook sours for developed economies.  The emerging equidistant channel pattern emerging in AUDUSD pair has a bearish bias with ideal positions initiated at the upper channel line targeting the lower channel line for an exit.  Fighting the downtrend is not suggested but should prices move above the upper channel line it could be indicative of a channel-based breakout higher to be accompanied by renewed upside momentum.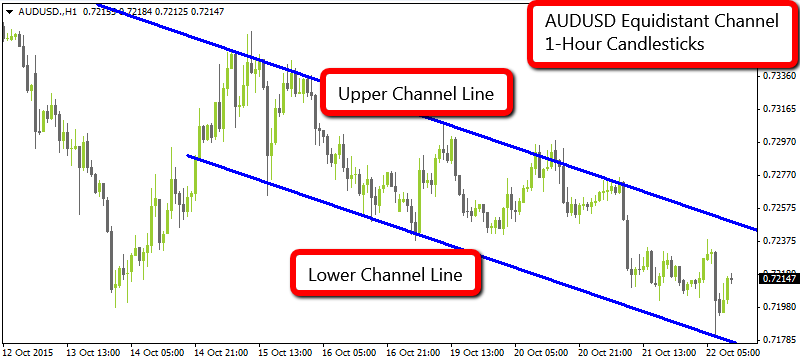 Resistance: 0.7231/0.7254
Support: 0.7202/0.7182