Asia-Pacific markets traded mixed Tuesday after starting the week by struggling for gains in what some analysts have described as a fragile environment for stocks. In Australia, the benchmark ASX 200 trimmed some of its early gains but still finished the session up 0.47%, or 31.6 points, at 6,771.20. The heavily-weighted financials subindex advanced 0.95% as major banking names rose. ANZ shares closed up 1.32%, Commonwealth Bank added 0.65%, Westpac rose 0.73% and National Australia Bank was up 0.83%.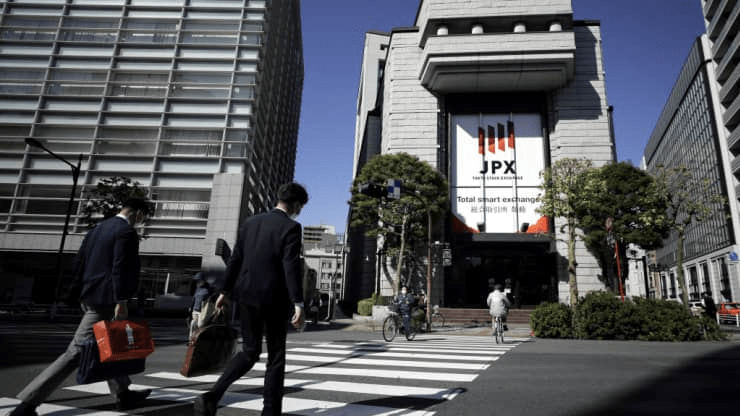 Japanese shares initially struggled after market open, but the Nikkei 225 erased early losses and closed up 0.99%, or 284.69 points, at 29,027.94. The Topix index advanced 1.27%, or 24.10 points, to 1,917.68. Banking and auto shares in Japan broadly rose as names like of Mitsubishi UFJ Financial Group, Toyota, and Honda finished up 1.84%, 2.86% and 3.68%, respectively.
South Korean shares fell, with the Kospi closing down 0.67%, or 19.99 points, at 2,976.12 and the Kosdaq lost 0.93%, or 8.41 points, to 896.36. Tech shares wavered between gains and losses: Samsung fell 0.73%, chipmaker SK Hynix reversed earlier losses and closed up 0.74%, while search engine operator Naver tumbled 1.9%. LG Electronics rose 1.05%.
Chinese mainland shares fell, with the Shanghai composite closing down 1.82%, or 62.12 points, at 3,359.29 and the Shenzhen component fell 2.8%, or 388.09 points, to 13,475.72. In Hong Kong, the Hang Seng index advanced 0.24% in late-afternoon trade.
Tuesday's session followed after European and U.S. stocks began the new week on a positive mood, where blue-chip benchmark Dow Jones Industrial Average gained about 300 points while the rotation out of tech continued.
The 10-year Treasury yield has risen sharply in recent weeks, in anticipation of more stimulus on top of a booming economic recovery in the United States. The benchmark rate started the calendar year below the 1% mark and was around 1.5542% as of Tuesday afternoon during Asian trading hours.
The U.S. dollar traded near flat at 92.287 against a basket of its peers, retreating from an earlier session high of 92.503. The Japanese yen changed hands at 109.01 per dollar, weakening from an earlier level around 108.85, while the Australian dollar gained 0.26% to $0.7669. Momentum in the oil market wavered during Asian trading hours on Tuesday. U.S. crude gave up earlier gains to trade down 0.89% at $64.47 a barrel while Brent fell 0.73% to $67.74.
The global benchmark broke the $70-mark on Monday after Saudi Arabia initially reported that its oil facilities were targeted by missiles and drones on Sunday. A Houthi military spokesman claimed responsibility for the attacks. Analysts said that the run up in prices were likely to be short-lived as the Saudis said there was no significant damage to infrastructure and oil prices retreated overnight.
Source: FXPro