Asian indices in early trading on Thursday followed Wall Street's losses amid turmoil in Hong Kong. Stocks plummeted in Hong Kong after clashes between protesters and police. As it was reported at least 79 people get injuries. The protesters were against a potential new extradition law with China. Crowds of protesters on Wednesday did not allow lawmakers to meet to discuss the law.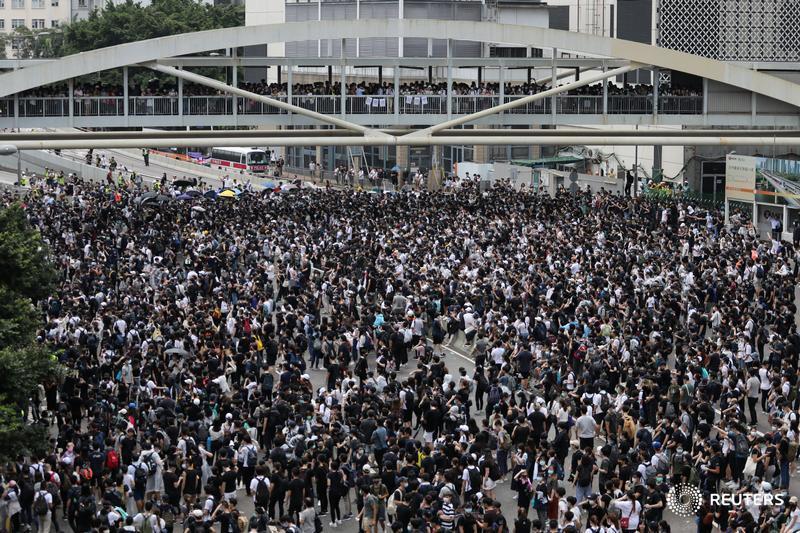 Photo: Reuters
Hopes that the U.S. and China will conclude a deal on the sidelines of the G20 summit in Osaka on June 28-29 faded away, which also undermined sentiment and led to a decrease in bond yields.
The composite index MSCI of Asia-Pacific region's shares dropped by 1 percent. Meantime China's Shanghai index recovered by 0.21 percent to 2,915.45.
Hong Kong's Hang Seng index bounced from its lows at the trade beginning, but remained negative with a 0.78 percent tumble to 27,094.97;

Japanese Nikkei down by 0.46 percent, to 21,032,00;

South Korean Kospi fell 0.31 percent, to 2,102.20;

The main Taiwan's index eased by 0.53 percent, to 10,561.01;

Singapore's FTSE Straits Times sank 0.20 percent, to 3,201.22 at 7.05 GMT;

Indonesian JSX Composite went down by 0.25 percent, to 6,260.31;

Australian ASX 200 decreased by 0.02 percent, to 6,542.4.
Japan Display shares fell 8.96 percent after its CEO announced his retirement due to additional restructuring measures.
Some more companies, tumbling on Thursday: Harvey Norman (-7.42), Challenger (-7.40), Beach Energy (-5.70), Whitehaven Coal (-5.68), Western Areas (-5.61), Wesfarmers (-5.15), Advantest (-4.93), G8 Education (-4.84), Myer (-4.76), Premier Investments (-4.58), Taiyo Yuden (-4.43), Metcash (-4.42), Yaskawa Electric (-4.32), JGC (-3.98), Chiyoda (-3.90), Tokyo Electron (-3.89), Denki Kagaku Kogyo (-3.70), JB Hi-Fi (-3.59), SK Hynix (-3.50), Huayu Automotive (-3.46), Kawasaki Kisen (-3.40), Sumco (-3.37), NEXTDC Ltd (-3.33), WorleyParsons (-3.24), JX Holdings (-3.12), Fortescue Metals (-3.02), China Life Insurance (-2.94), Tsec (-2.89), Jentech Precision (-2.89), LG (-2.73), Samsung (-2.13), etc.
There are, of course, companies, whose shares showed a strong jump: Yonyou Soft (+7.43), Retail Food (+3.13), Largan Precision (+3.08), City Developments (+2.94), Coca Cola Amatil (+2.61), Charter Hall Long WALE REIT (+2.58), Link Administration Holdings Ltd (+2.38), Nufarm (+2.37), Australian Agricultural Company (+2.34), Union Bank Of Taiwan (+2.21), Aisino Co., Ltd. (+2.30), etc.