Asian shares mainly grow, as the U.S. Federal Reserve kept interest rates unchanged, but indicated that it was ready to ease monetary policy if it would be necessary.
The Fed said it would "closely monitor" the economy, given the growing uncertainty about government policies, the Regulator signaled that it might not be necessary to reduce rates by 2020, but Chairman Jerome Powell had a slip of the tongue, that the central bank would be ready to cut rates if necessary. The United States and China broke off trade negotiations in early May and have not met since.
The broadest MSCI's index for shares of the Asia-Pacific region outside of Japan grew by 0.6 percent.
MSCI ACWI, which includes indicators of 49 stock markets around the world, added 0.3 percent on Thursday, managing to recover most of the losses (6.7 percent), after reporting a new portion of tariffs.
Japan's Nikkei grew by 0.60 percent, to 21,462;

Hong Kong's Hang Seng added 1.01 percent

China's Shanghai Composite Index rose 1.08 percent, to 28,506;

South Korea's Kospi went up by 0.31 percent, to 2,131;

TAIEX in Taiwan increased the price by 0.09 percent, to 10,785;

FTSE Straits Times in Singapore rose by 0.96 percent, to 3,319 at 7.44 GMT;

JSX Composite in Indonesia went down by 0.19 percent, to 6,326;

Australia's ASX 200 added 0.59 percent, to 6,687.
Chinese brokerage company Huatai Securities, whose shares are listed on the Chinese Class A stock market, debuted on the British stock market this week through a cross-bidding mechanism between the London and Shanghai stock exchanges. This means the official long-awaited London-Shanghai stock connect project. Huatai Securities shares soared by 9.99 percent on Thursday at 7.38 GMT.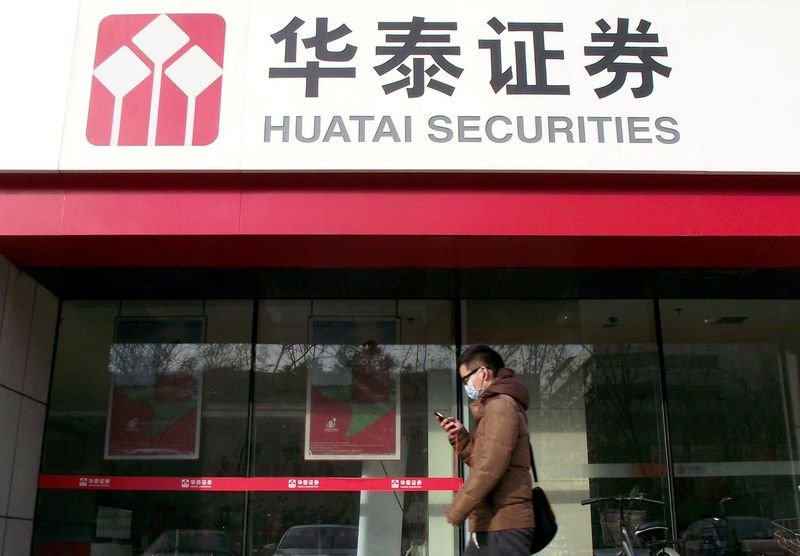 Photo: Reuters
Geely Automobile's shares in Hong Kong jumped in price by 4.87 percent at 7.33 GMT after its subsidiary Volvo Cars announced the contract execution with the Swedish Zenuity for the supply of autonomous driving software.
The market value of the Australian Rio Tinto fell by 3.98 percent, Beach Energy increased its capitalization by 2.17 percent in Sydney.
Companies, that showed a strong jump in shares value on Thursday: Resolute Mining Ltd (+10.65), Haitong Secur (+9.17), St Barbara Ltd (+8.80), CITIC Securities (+8.35), Northern Star Resources (+7.85), Evolution Mining (+7.80), Regis Resources (+7.19), Nanosonics Ltd (+7.14), China Merchants Securities (+7.14), BlueScope Steel (+6.54), CYBG PLC (+6.23), China Life Insurance (+5.82), New China Life (+5.67), Pilbara Minerals Ltd (+5.50), China International (+5.46), SpeedCast International Ltd (+5.20), Tokyo Tatemono (+5.06), etc.