Asian stock markets were mostly growing in a muted trading on Tuesday, investors are waiting Fed meeting this week.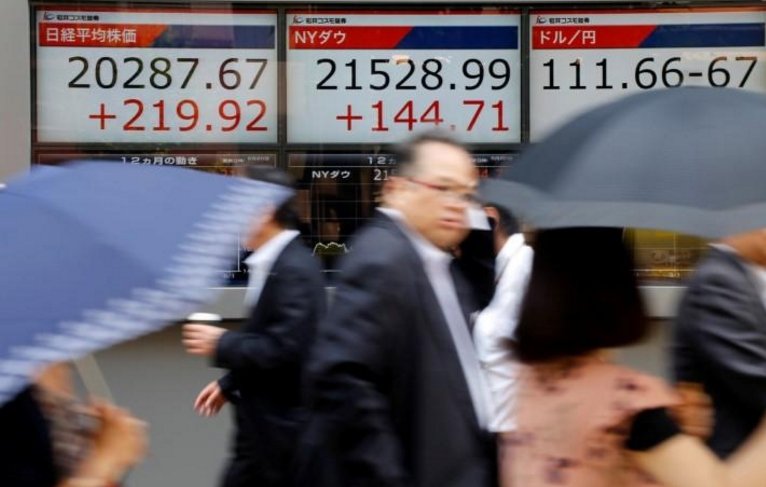 Photo: Reuters
The broadest MSCI index for shares of the Asia-Pacific region outside of Japan grew by 0.2 percent.
Japan's Nikkei decreased by 0.72 percent, to 20,972;

Hong Kong's Hang Seng grew by 1,16 percent, to 27,542;

Shanghai Composite inched higher 0.08 percent, to 2,890;

South Korea's Kospi and TAIEX in Taiwan rose both by 0.34 percent, to 2,097 and 10,566 respectively;

FTSE Straits Times in Singapore soared by 0.92 percent, to 3,237 at 6.46 GMT;

Indonesia's JSX Composite went up by 0.75 percent, to 6,237;

Australia's ASX 200 jumped by 0.60 percent, to 6,570.
Among individual stocks, one should mention the shares growth of such companies as: Nanosonics Ltd (+8.72), Cleanaway Waste Management Ltd (+4.87), Rakuten (+4.16), Tokyo Dome (+3.95), NIB HOLDINGS (+3.90), Sh Fosun Pharma (+3.87), HT&E Ltd (+3.70), Asaleo Care (+3.49), Familymart Co (+3.05), Wharf Real Estate Investment Company Ltd (+2.99), InvoCare (+2,55), Sony (+2.49), Sino Land (+2.40), China International (+2.32), Nippon Suisan Kaisha (+2.30), Shanghai Airport (+2.30), Dentsu (+2.17), New World Development (+2.09), China Shenhua Engy (+1.93), AIA Group (+1.90), Softbank (+1.85), CNOOC (+1.46), China Railway Cons (+1.43), Geely Automobile (+1.32), Hong Kong Exchanges (+1.31), etc.
A considerable drop showed such companies as: Vocus Communications (-24.54), Pilbara Minerals Ltd (-9.93), BlueScope Steel (-5.27), McMillan Shakespeare (-4.85), South32 (-4.23), Lynas Corporation Ltd (-3.97), Saracen Mineral Holdings Ltd (-3.83), Fortescue Metals (-3.75), Mineral Resources (-3.72), Xian Longi (-3.72), Domain Holdings Australia Ltd (-3.59), Galaxy Resources (-3.42), Bank Of East Asia (-3.42), Jardine Matheson (-3.16), Retail Food (-3.13), Beach Energy (-3.01), Advantest (-2.92), Ube Industries (-2.55), Tokyo Electron (-2.49), Country Garden (-2.09), ETC
The U.S. Federal Open Market Committee will hold a two-day meeting that will begin on Tuesday. The market participants focus Chairman Jerome Powel's press conference and the Fed's statement to be published on Wednesday.
The likelihood of lowering rates in June is very small, but investors hope for rhetoric softening and a change in key rates to the downside during July's meeting.