China's Inner Mongolia has banned cryptocurrency mining and declared its intention of shutting all such projects by April, spurring fears the world's No. 2 economy will take more steps this year to eradicate the power-hungry practice. The autonomous region, a favorite among the industry because of its cheap power, also banned new digital coin projects, according to a draft plan posted on the Inner Mongolia Development and Reform Commission's website Feb. 25. The aim is to constrain growth in energy consumption to about 1.9% in 2021.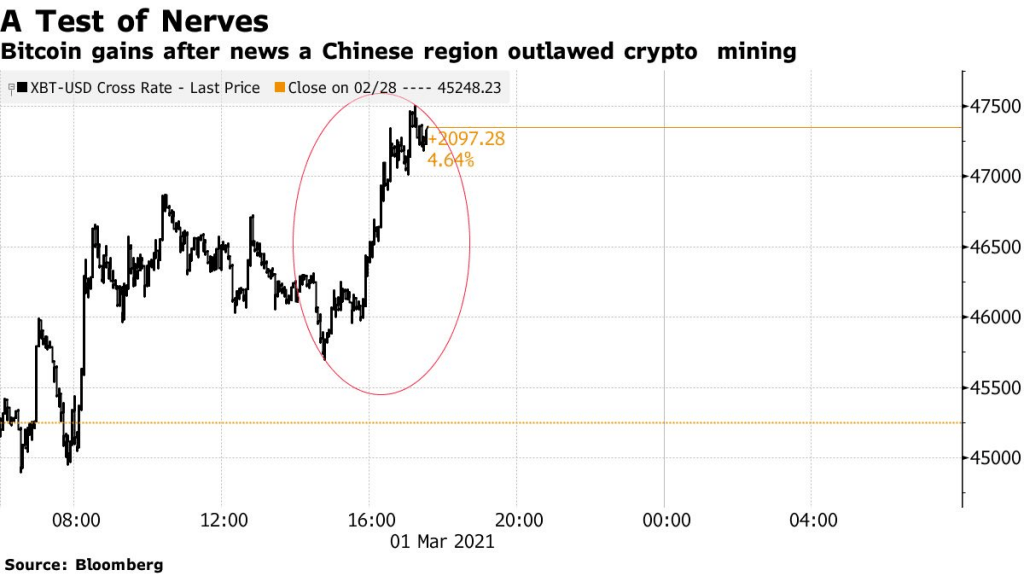 The announcement unnerved an industry that's already been through a years-long Chinese campaign to shrink it down amid concerns over speculative bubbles, fraud and energy waste. The draft policy was released weeks after the National Development and Reform Commission — China's top economic planner — blasted Inner Mongolia for being the only province to fail to control energy consumption in 2019.
The region now aims to cut emissions per unit of gross domestic product by 3% this year and control incremental growth of energy consumption at about 5 million tons of standard coal, according to the draft plan. Chinese officials first outlined proposals in 2018 to discourage crypto-mining — the computing process that makes transactions with virtual currencies possible but consumes vast amounts of power.
Source: FXPro