The collapse in asset price volatility made "carry trading" one of the main investors' strategies this year. And it seems the game is only in full swing. So, investors use currency with low interest rates to invest in assets with high returns, for example in emerging markets.
In order for the strategy to work, liquidity must be at a sufficient level, the global economic background is favorable and the last, but not the least, the currency volatility must be zero. It looks like all the conditions are available.
As a result, carry trading came back to 5.5 percent in 2019, according to the HSBC Global FX Carry Index. This became possible after a 1.4 percent drop in 2018, when a rise in U.S. interest rates caused panic in emerging markets, which became a favorite place to make money.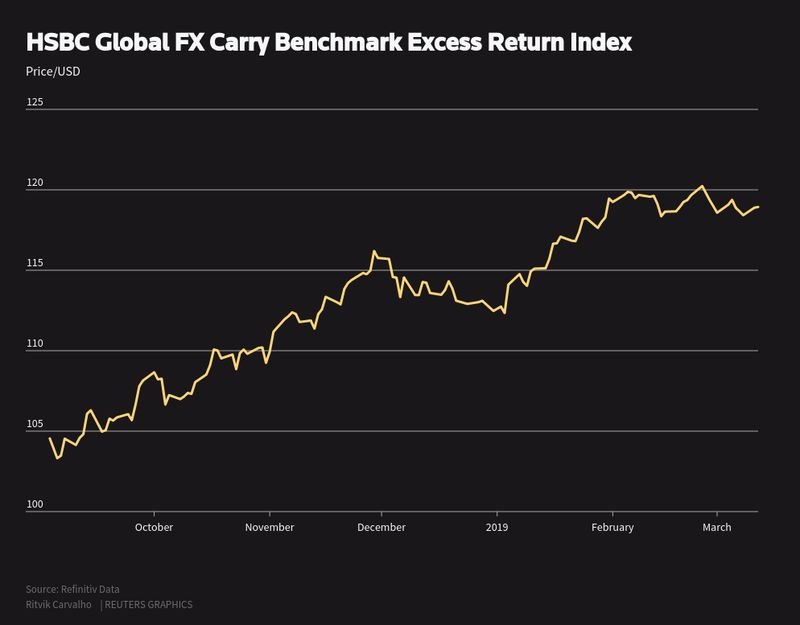 Photo: Reuters
Some traders are betting on the Turkish lira and the Brazilian real. For example, investors purchasing 10-year government bonds in Russia may receive a yield of 8.5 percent or 8 percent in Mexico. The yield increased due to the appreciation of the currency, for example, the Russian ruble, strengthened by 6 percent against the dollar and the euro.
On the other hand, the carry traders choose Japan's yen, Swiss franc and euro, since their low yield makes them attractive for sale.
The yield of the benchmark bond in Switzerland is 0.35 percent; in Germany, only 0.07 percent. But the euro was especially popular this year, due to the "patient" nature of monetary policy.
Carry-trading does have a lot of risks, for example, in the case of a slowdown in the U.S., aggravation of any international trade conflicts, a sharp jump in the level of volatility can lead to the fact that "safe" currencies will grow suddenly, while bringing loss on risky emerging markets.