Elon Musk showed the Tesla Cybertruck armoured pickup truck. It looks like a futuristic tank and the list prices for these models begins with $39,900.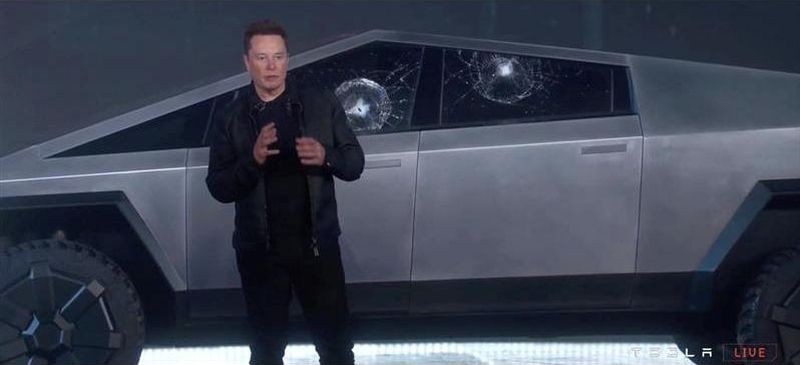 Photo: Reuters
Tesla CEO Elon Musk unveiled a new electric car, the Cybertruck pickup, which is being armoured, but at the same time in the framework of a new model demonstration, a steel ball managed to crack the windows.
The electric pickup turned out to be armored: its body is made of cold-rolled stainless steel, and the glasses are armored using Tesla's own technology. According to Musk's words, such a car can resist bullets shot from a 9mm gun. To demonstrate the capabilities of the glasses, Elon Musk asked his assistants right on the stage to conduct a test drive and drop several heavy metal balls on the exact same glass as in a pickup truck - the glasses withstood. However, when the assistant threw the ball into the pickup glass, it cracked.
The pickup will be available in three versions: for $39,900, $49,900 and $69,900 (for an additional $7,000, the buyer can add the autopilot function). Depending on the configuration, the Tesla Cybertruck is equipped with one, two or three engines and can travel 250, 300 and 500 miles, respectively, without recharging. The most expensive model reaches 60 miles per hour in 2.9 seconds, and its carrying capacity is 1600 kilograms.
The company's website has already been pre-ordered, although the car production is planned for 2021.
Twitter users, however, are divided in opinions regarding the design. Tesla's shares tumbled by 5.55 percent on Friday.