European stocks were mixed on Thursday, as strong quarterly results of some companies softened evidence of a slowdown in the eurozone business this month.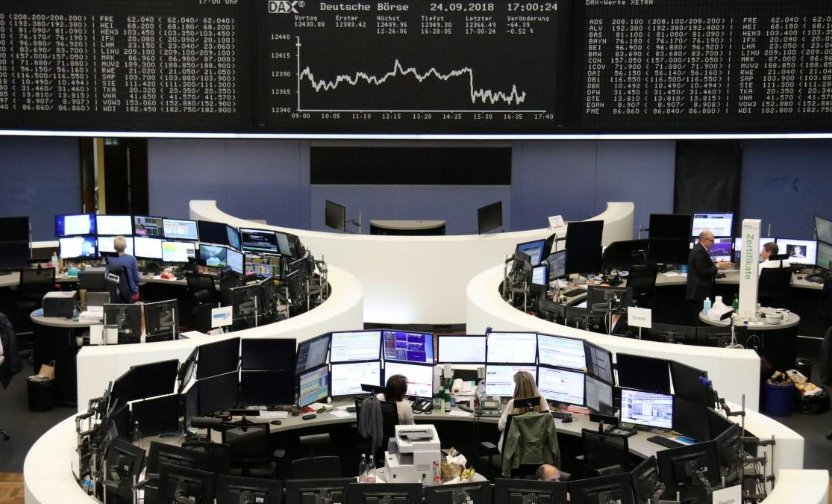 Photo: Reuters
The pan-European STOXX 600 index rose by 0.20 percent at 11.47 GMT, rebounding from an eight-month high anticipating a six-day series of victories on the eve of Easter holidays.
UK's FTSE 100 decreased by 0.12 percent to 7,462.41, while the decline in Italy's FTSE MIB and Spain's Ibex 35 indexes by 0.24 and 0.23 percent was caused by banks weak activity. Thus, the shares of the banking sector fell by 0.7 percent, noting the largest decline in three weeks.
The German DAX added 0.45 percent to 12,207.30. Volkswagen (+4.21 percent), Thyssenkrupp (+3.87 percent), Daimler (+3.74 percent), Deutsche Post (+2.17 percent), BMW (+2.02 percent) were the growth leaders in the German DAX.
The index of business activity in the services sector in Germany rose to 55.6, having marked an increase of 0.2 percent. But production data showed that activity in this sector remains at a level below 50, which determines the expansion or contraction of the sector, more precisely, 44.5 in April, although it increased relatively to the level of 44.1 in March.
This data affected the euro, pushing the single currency down by 0.38 percent to $1.1253.
France's CAC 40 increased by 0.27 percent to 5,578.30.
Upbeat earnings of Nestle and Unilever greatly supported the STOXX 600.