The outlook for U.S.-China trade relations is likely to remain challenged after this week's high-level diplomatic talks showed that President Joe Biden's team does not plan to wholly abandon the Trump administration's tough tone in discussions with Beijing. Though Washington and Beijing struck a ceasefire in their tit-for-tat trade feud with last year's "phase one" agreement, representatives on both sides are far from pleased with the status quo and see the other as a key economic rival.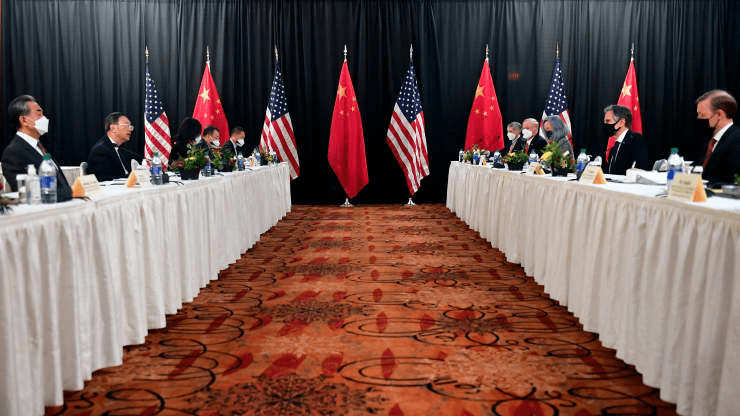 That competition was on full display on Thursday, when the countries began two days of meetings in Anchorage, Alaska. Secretary of State Antony Blinken began his remarks by noting that the U.S. would highlight "its deep concerns with actions by China, including in Xinjiang, Hong Kong, Taiwan, cyber attacks on the United States [and] economic coercion toward our allies." Yang Jiechi, director of the Central Foreign Affairs Commission of the Chinese Communist Party, said the U.S. "does not have the qualification to say that it wants to speak to China from a position of strength."
Though the talks were seen more as a diplomatic exercise than an economic one, the prickly exchange is likely an early snapshot of the bitter battles ahead for the Biden trade team. And at stake is one of the most valuable trading relationships in the world. China is currently the United States' third-largest goods trading partner with $558.1 billion in total (two-way) trade in 2019, according to the Office of the USTR. That massive trading volume supported an estimated 911,000 U.S. jobs as of 2015, with 601,000 stemming from goods exports and 309,000 from services exports.
China is also the third-largest export market for American farmers and annual trade in agricultural commodities totaled $14 billion two years ago. China is the United States' largest supplier of goods imports. The trade negotiations with China carry commercial importance, but also represent an opportunity to protect U.S. national security interests and shore up access to critical technologies.
Weeks before the meetings in Anchorage, Alaska, the Biden administration drafted an executive order directing government departments to review key supply chains, including those for semiconductors, high-capacity batteries, medical supplies and rare earth metals.
Source: FXPro