The dollar fell on Tuesday after the Federal Reserve announcement of a massive asset purchase program the previous day, easing thus the demand for the greenback and raising slightly risk appetite.
Recall, the Federal Reserve on Monday introduced a range of programs for large companies, households, and small businesses, citing the "huge difficulties" facing the economy due to the coronavirus pandemic.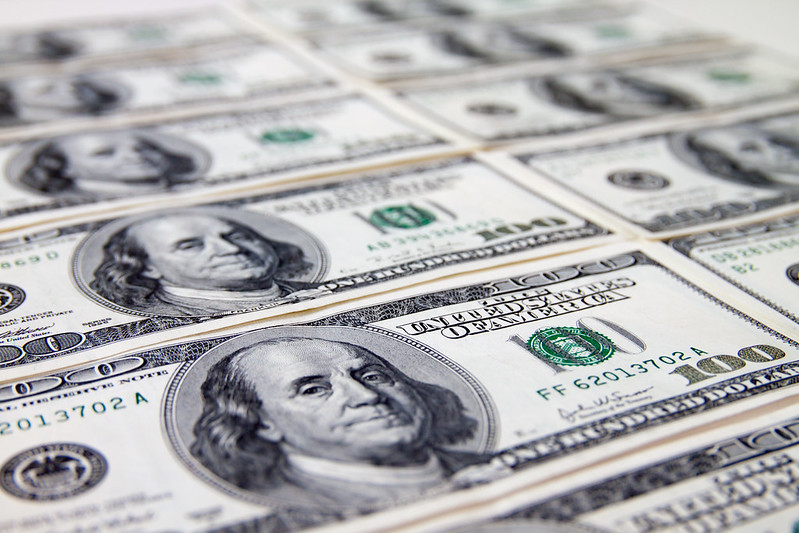 Photo: Flickr
The dollar index, tracking the greenback value against a basket of its 6 main rivals went down by 0.84 percent, to 101,63 at 0928 GMT. The buck has been appreciating strongly since March 9th as a tumble in stock markets and several shutdowns in the country due to the infection raised liquidity and funding needs.
As for the single currency and the UK's pound, they gained both 0.57 percent, to 1,0823 and by 0.69 percent, to 1,1674.
The U.S. currency tried to reverse movement versus the Japanese yen by a 0.01 percent rise, to 110,89, wobbling between slight losses and gains.
Trading remained volatile on Tuesday, with the antipodean currencies, soaring by 1.05 percent and 1.37 percent respectively, to reach 0.5934 and 0.5816.
Markets are waiting for a series of data on business sentiment in Europe, which should be released today to get an idea of how the virus affects the real economy.
The Swiss franc gained momentum by 0.62 percent versus the greenback, to 0.9762. The Loonie surged by 0.54 percent, to 1,4402.
Source: Reuters