U.S. stock markets went down on last day of the week, after the jobs data showed the U.S. economy shed 701K jobs in March being greater by several fold than forecasts of 100K but not as worse as in 2008. Meanwhile, recent PMI data showed U.S. private sector shrank at the quickest pace on record as the virus pandemic hit the economy. The number of infections uptick in the U.S. is approaching 250K and the death toll already passed over 6K.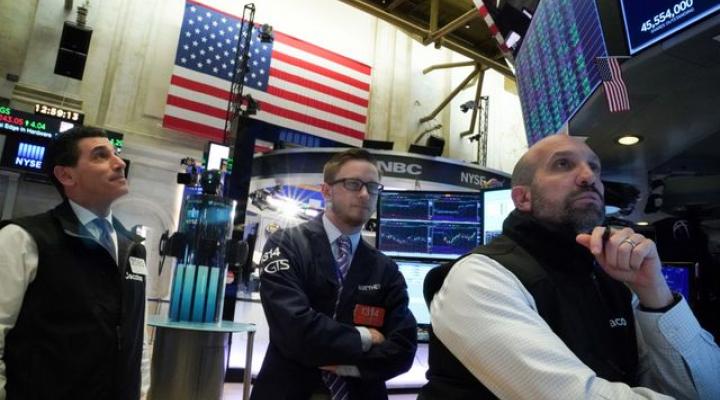 Photo: Reuters
The Dow Jones dipped by 1.85 percent, to 21,035, the S&P 500 eased by 1.65 percent, to 2,485 and the Nasdaq Composite lost 1.51 percent, to reach 7,373 at 1550 GMT.
The number of job places in the U.S. in March decreased for the first time since 2010 - by 710,000 people. Jobless number in the country rose to 4.4 percent from 3.5 percent in February.
Meantime, the predicted U.S. GDP decline in Q2 will account 7 percent, whereas unemployment rate surge above 10 percent.
The U.S. president had to resort to the wartime production law so that equipment manufacturers could start production of mechanical ventilation devices (Continuous Positive Airway Pressure (CPAP) devices) as soon as possible.
Walt Disney securities tumbled by 2.11 percent. The world's largest entertainment and media company sent all its employees in the country on leave without pay
Amazon.com shares added 0.26 percent after the world's largest online retailer has hired 80,000 people in a few weeks, planning to increase the general number of its employees by 100,000 against the backdrop of growing demand.
Shares of 3M stock slipped by 0.7 percent after news that demand for 3M respirators in the U.S. exceeds manufacturing capacity.
Pfizer gained 1.37 percent, as well as Boeing increasing its value by 1.65 percent, whereas Exxon Mobil and Chevron decreased their market cap by 3.34 percent and 2.44 percent respectively.
Source: Reuters, Tradingeconomics