U.S. indexes went down on Friday, ending an immense three-day jump after fresh concerns about the fate of the domestic economy awakened and the number of infection cases surged.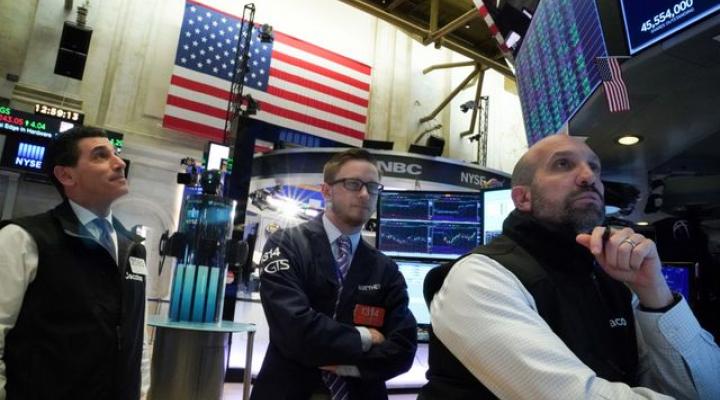 Photo: Reuters
Wall Street increased its losses late Friday, despite the $2.2Tn stimulus package was approved, the biggest one in the U.S. history, to help people and businesses cope with an economic slowdown caused by the Covid-19 and supply medical institutions with needed supplies.
The United States has exceeded Italy and China in coronavirus cases uptick, as the number surpassed 100,000, with the death toll 1,500.
After the stock markets closed, the U.S. Leader signed the stimulus bill into law.
The bill, along with exceptional policy easing by the Fed, buoyed the S&P 500 index to jump by 10.2 percent for the week, posting its best weekly result since 2009. Still, the U.S. equity benchmark is still weaker by near 25 percent from its February peak.
The Dow dipped by 4.06 percent to finish at 21,636, while the S&P 500 index eased by 3.37 percent, to end at 2,541 and the Nasdaq Composite lost 3.79 percent, to reach 7,502 before the close bell on Friday.
Volume on U.S. exchanges was 13.4B shares, its smallest since March 5, as it followed from Refinitiv reading.
Many market participants see a big risk the market could follow deeply down again as Covid-19 cases increase with more and more fatalities, however.
Macroeconomic signs helped to take a quick glance on the economic ravage from the current crisis as the isolation of major cities flopped over the lives of millions of citizens.
U.S. consumer mood decreased to a around 3-1/2-year low in the current month, according to a poll released on Friday, just a day after jobless report showed a record 3 million jump in unemployment applications last week.
American Airlines (-10.34), Delta Airlines (-6.78) and United Airlines (-7.62) decreased significantly on Friday as U.S. Treasury Secretary said the help designated for travel sector in the aid package was not a bailout funds and that taxpayers would call for to be compensated.
Boeing Co securities dipped by 10.27 percent, but was still up more than 70 percent on weekly basis, after Mnuchin said the plane manufacturer had no intention of using federal funds.
The banking sector index diminished by 4.6 percent, tracking U.S. Treasury yields as investors sought safety in high-quality assets. U.S. futures decreased slightly more than 1 percent, to 0.80 and oil prices also were down.
Source: Dailymail