Analysis of Ichimoku Indicator on September 14, 2016

GBP/USD "Pound vs US Dollar"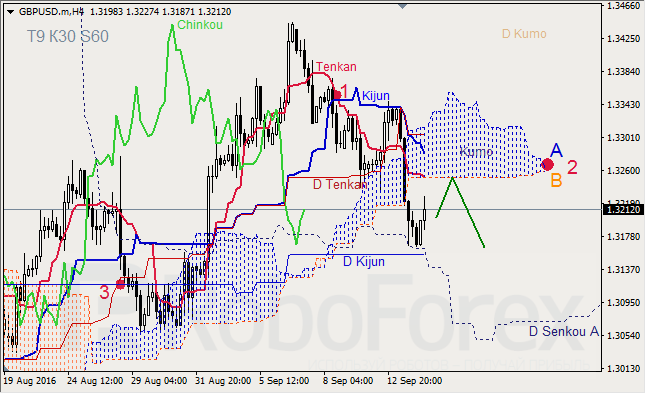 GBP/USD, TF H4. The price has bounced up from the Cloud lower boundary, D Tenkan and D Kijun demonstrates steady "gold cross" formation (3), but still there is an influence of "dead cross" (1). It should be noted that Tenkan and Kijun are directed downwards, the Cloud is closed (2), however, we cannot confirm that its direction has been changed—it is too early to say so since daily Cloud has been already raising, the Chinkou line is under the chart and now there is quite big distance between this line and the Cloud. We can expect resistance of Tenkan - Senkou B and price descending.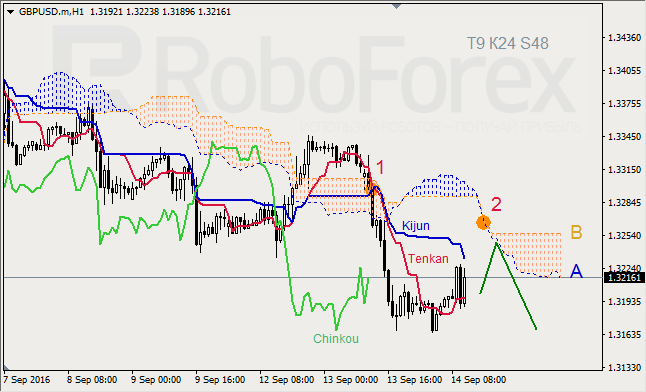 GBP/USD, TF H1. So far "dead cross" is dominating on the chart (1), price in the Tenkan - Kijun channel, the Cloud is descending and expanding (2), the Chinkou is closing to the chart. In the short term we can see resistance of the Cloud lower boundary and further price descending.
GOLD "Gold"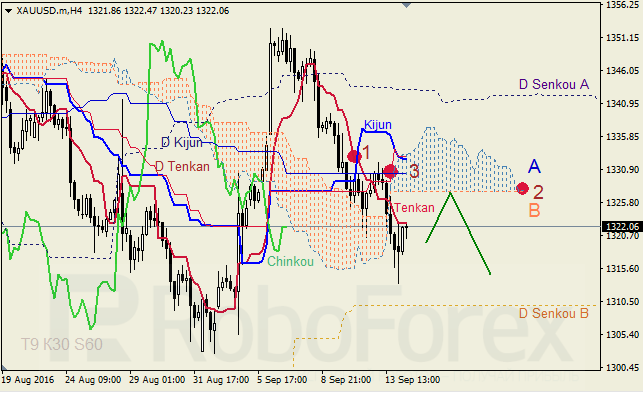 XAU/USD TF H4. The price is moving to the daily Cloud, D Tenkan and D Kijun have been crossed in a shape of "gold cross" (3), however, we still can see an influence of "dead cross" on the current chart (1), The Kumo is closed (2) and can change the direction, the Chinkou is settled under the chart. We might see Senkou B resistance and price descending towards daily Cloud lower boundary - D Senkou B, which plays as a support.
Dear reader!
Without authorization, you can view no more than two reviews per day and no more than 10 per month. To continue reading analytical reviews, register or login to your Members Area.