Analysis for November 25th, 2016

EUR USD, "Euro vs US Dollar"
The EUR/USD pair has formed the ascending impulse. Later, in our opinion, the market may fall towards 1.0565 and then form another ascending impulse to reach 1.0620. After completing this wave, the instrument is expected to start a more significant bullish correction.



GBP USD, "Great Britain Pound vs US Dollar"
The GBP/USD pair is still moving in the center of the consolidation range. We think, today the price may to reach 1.2530 and then fall towards 1.2220.



USD CHF, "US Dollar vs Swiss Franc"
The USD/CHF pair is moving downwards; it has already formed two impulses. Possibly, the market may return to 1.0160 and then form another impulse to reach 1.0130. Only after the market completes this wave, we may say if the correction is going to continue.



USD JPY, "US Dollar vs Japanese Yen"
The USD/JPY pair is falling towards 112.50. After that, the instrument may return to 113.20, thus forming another consolidation range. If later the market breaks this range to the upside, it may grow with the first target at 114.30; if to the downside – start falling towards 106.00.



AUD USD, "Australian Dollar vs US Dollar"
The AUD/USD pair is forming the third ascending wave with the target at 0.7496. Later, in our opinion, the market may return to 0.7428 and then start growing towards 0.7550. The entire structure may be considered as a correctional one.



USD RUB, "US Dollar vs Russian Ruble"
The USD/RUB pair is trying to form the five-wave structure with the target at 65.00. Later, in our opinion, the market may continue falling to reach 63.63. After breaking it, the instrument may move downwards to reach 61.75.



XAU USD, "Gold vs US Dollar"
After the market opening, Gold is expected to form another ascending structure to return to 1212



BRENT
Brent is expected to complete the correction at 48.50. After that, the instrument may start growing with the target at 53.40.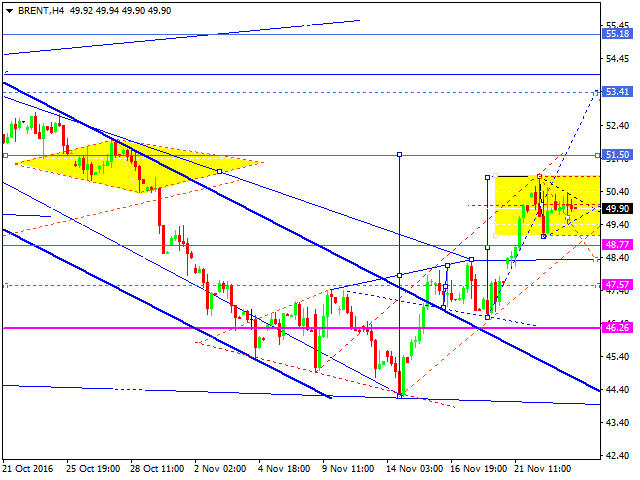 RoboForex Analytical Department
Dear reader!
Without authorization, you can view no more than two reviews per day and no more than 10 per month. To continue reading analytical reviews, register or login to your Members Area.