AUDUSD, "Australian Dollar vs US Dollar"
In the H4 chart, the pair is still correcting downwards after the uptrend and the divergence on MACD. However, one should note that earlier the price was consolidating within a narrow range but is trying to a rising channel towards the high at 0.7064. If the asset breaks the high, it may continue growing to reach the long-term 61.8% fibo at 0.7129. Still, there is a possibility that AUDUSD may rebound from the high and start a new decline. In this case, the downside targets may be at 23.6%, 38.2%, and 50.0% fibo at 0.6697, 0.6468, and 0.6286 respectively.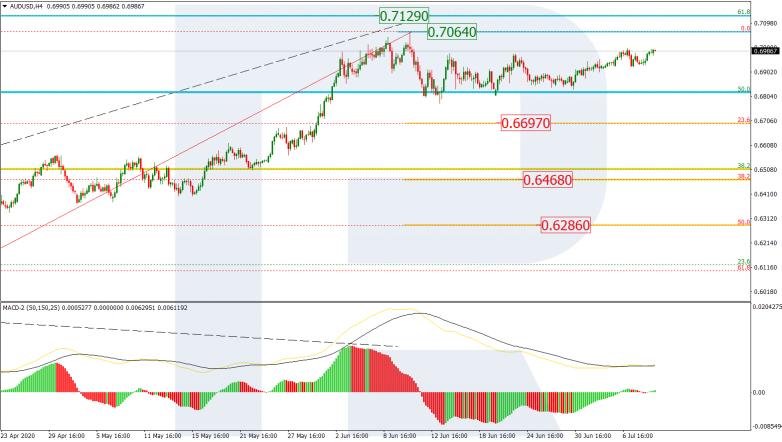 The H1 chart shows another ascending impulse after the convergence, which has reached 76.0% fibo. The current situation implies that after breaking the high at 0.7064, the price may continue growing towards the post-correctional extension area between 138.2% and 161.8% fibo at 0.7174 and 0.7241 respectively. At the same time, there is a divergence on MACD, which may indicate a possible reversal soon.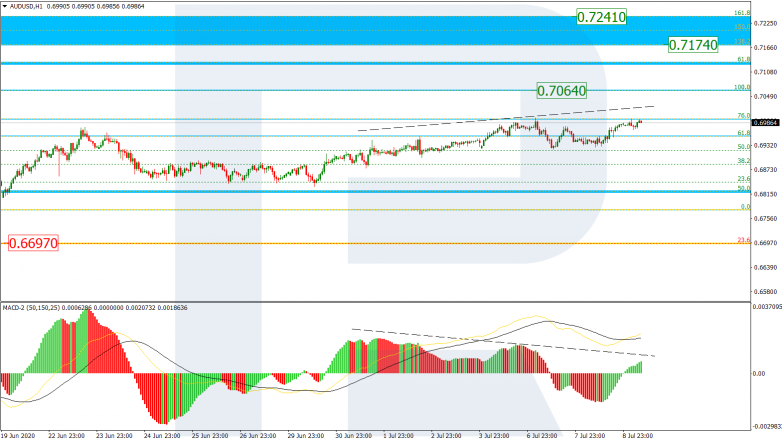 USDCAD, "US Dollar vs Canadian Dollar"
In the H4 chart, the divergence made the pair stop at 23.6% and start a new pullback. After finishing the pullback, the price may jump towards 38.2%, 50.0%, and 61.8% fibo at 1.3832, 1.3991, and 1.4151 respectively. The support is the low at 1.3315.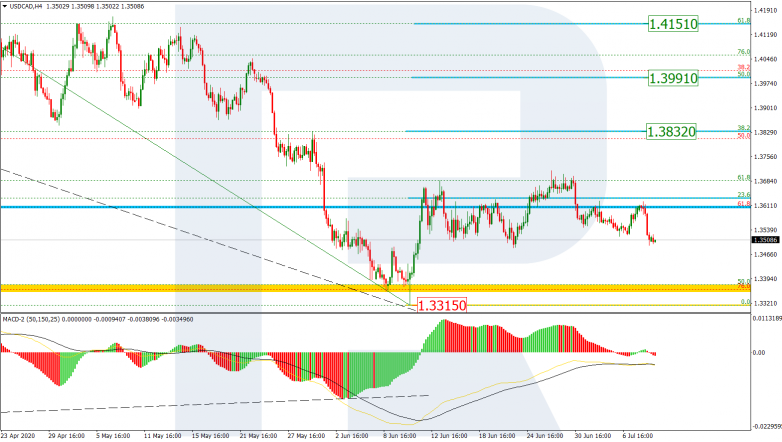 The H1 chart shows a more detailed structure of the descending correctional movement after the divergence on MACD. The descending wave has reached 50.0% fibo and may later continue towards 61.8% and 76.0% fibo at 1.3467 and 1.3411 respectively. If the price breaks the resistance at 1.3715, the mid term uptrend may resume.