EURUSD, "Euro vs US Dollar"
On H4, the quotations overcame the long-term high of 1.2011 and paused in the uptrend. The pair might be on the verge of a descending correction. When it is over, we can expect a new wave of growth to a post-correctional extension range of 138.2-161.8% (1.2167-1.2262) Fibo. The main support is at the fractal level of 1.1603.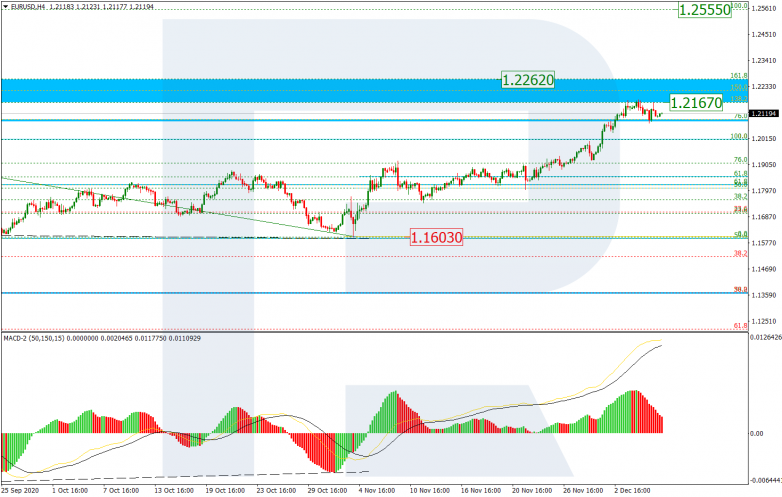 На 1-часовом графике EURUSD можно рассмотреть начало нисходящей коррекции после дивергенции на MACD. Первая волна спада нацелена на уровень 23,6% по шкале Фибоначчи (1,2043), а следующая может направиться к уровням 38,2% (1,1958) и 50,0% (1,1890). Прорыв максимума на 1,2178 станет сигналом продолжения восходящей тенденции.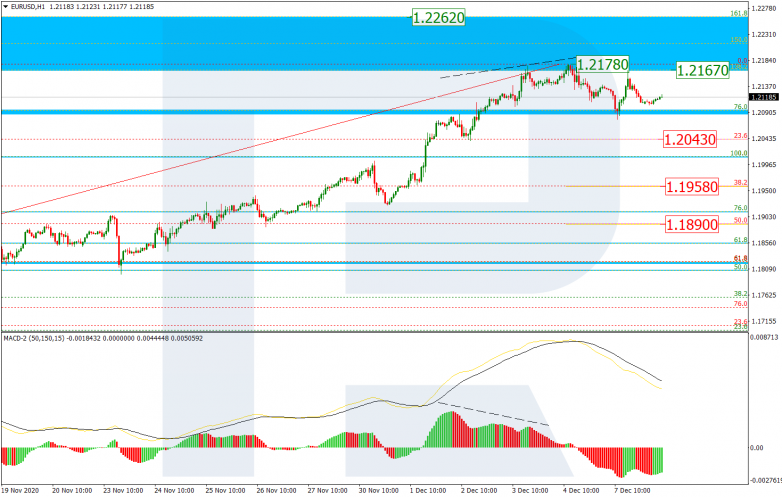 USDJPY, "US Dollar vs Japanese Yen"
On H4, the technical picture of the pair has hardly changed since a week ago. The pair keeps forming a consolidation channel. As long as there is a convergence on the MACD, we can expect the market to be preparing another wave of growth to 38.2% (106.43), 50.0% (107.44) Fibo. The main support is at 103.17, a breakaway of which will open a pathway down to the fractal low of 101.18.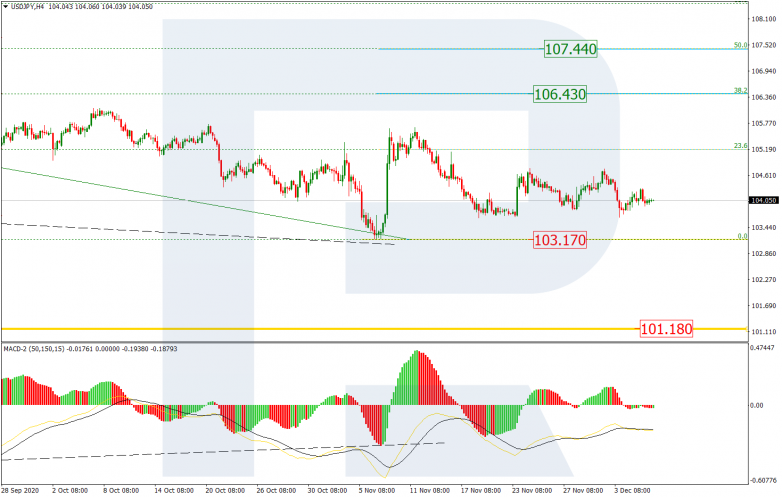 On H1, there is a sideways movement going between 61.8% (104.91) and the low of 103.65. A breakaway of the highs might open a pathway to 76.0% (105.19) and the fractal level of 105.68. A breakaway of the local low at 103.65 might let the quotations decline to the main low of 103.17.