Major U.S. stock-indexes mixed on Monday as a bounce in healthcare shares struggled to offset declines in energy and materials stocks. Oil prices reversed course to drop more than 2% after traders took in their stride the impact of wildfires on Canada's oil output and after another inventory build at the U.S. hub for crude futures. A bigger-than-expected drop in China's imports and exports in April pointed to weak demand in the world's second-biggest economy and weighed on materials stocks.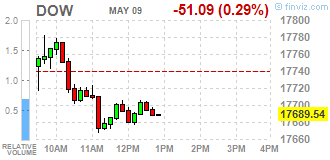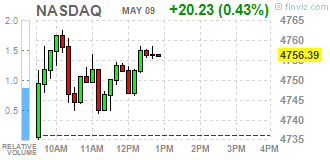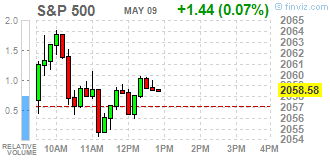 Dow stocks mixed (15 vs 15). Top looser - Caterpillar Inc. (CAT, -3,59). Top gainer - Merck & Co. Inc. (MRK, 1,24%).
S&P sectors mixed. Top looser - Basic Materials (-2,7%). Top gainer - Healthcare ( 1,5%).
At the moment:
Dow 17623.00 -48.00 -0.27%
S&P 500 2052.75 0.00 0.00%
Nasdaq 100 4342.75 14.50 0.34%
Oil 43.46 -1.20 -2.69%
Gold 1267.10 -26.90 -2.08%
U.S. 10yr 1.76 -0.02