Major U.S. stock-indexes higher on Tuesday, tracking global equities, as investors' appetite for risk increased and as oil prices rose, boosting energy shares. Oil was up about 2%, driven by supply disruptions in Canada and elsewhere that have knocked out 2.5 million barrels of daily production and overshadowed fears of oversupply. World stock markets also rose, helped by solid corporate earnings in Europe, progress on Greek debt talks, and a new pledge by Japan that it was prepared to weaken its currency.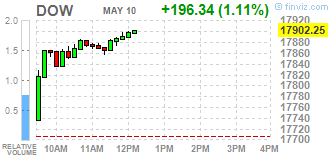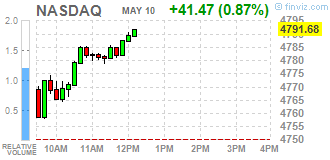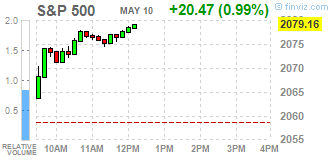 Almost all of Dow stocks in positive area (28 of 30). Top looser - Pfizer Inc. (PFE, -0,68). Top gainer - The Goldman Sachs Group, Inc. (GS, 2,23%).
Almost all of S&P sectors also in positive area. Top looser - Conglomerates (-2,4%). Top gainer - Basic Materials ( 1,5%).
At the moment:
Dow 17826.00 180.00 1.02%
S&P 500 2073.25 19.00 0.92%
Nasdaq 100 4380.25 44.50 1.03%
Oil 44.39 0.95 2.19%
Gold 1260.40 -6.20 -0.49%
U.S. 10yr 1.76 0.00