08.06.2016 15:12
Wall Street. Major U.S. stock-indexes little changed
Major U.S. stock-indexes rose on Wednesday, with the S&P inching closer to its record high, as oil prices increased again and chances of an interest rate hike in the near term faded. Oil held above $50 for the second consecutive day on supply disruptions in Nigeria, a drop in U.S. crude inventories and strong demand in China.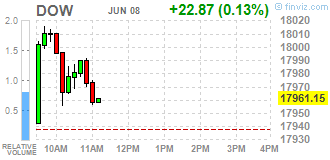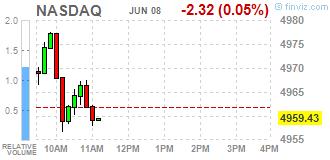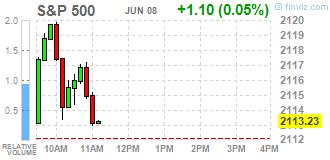 Most of all of Dow stocks in positive area (19 of 30). Top looser - Verizon Communications Inc. (VZ, -0,66%). Top gainer - Caterpillar Inc. (CAT, 2,07%).
Almost all of S&P sectors also in positive area. Top looser - Conglomerates (-0,3%). Top gainer - Basic Materials ( 1,2%).
At the moment:
Dow 17965.00 32.00 0.18%
S&P 500 2114.00 3.75 0.18%
Nasdaq 100 4509.00 -5.25 -0.12%
Crude Oil 50.96 0.60 1.19%
Gold 1263.80 16.80 1.35%
U.S. 10yr 1.71 -0.01