09.06.2016 15:27
Wall Street. Major U.S. stock-indexes fell
Major U.S. stock-indexes fell on Thursday morning, led by financials and as lower oil prices weighed on energy companies. Oil prices were down ~1% as traders took profits after a three-day rally. The number of Americans filing for unemployment benefits unexpectedly fell last week, pointing to sustained strength in the labor market despite a sharp slowdown in hiring last month. The jobless claims data gave investors their first read of the labor market since Friday when dismal May payrolls numbers jolted the markets.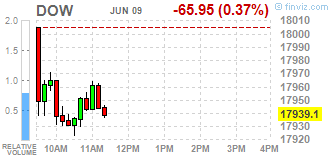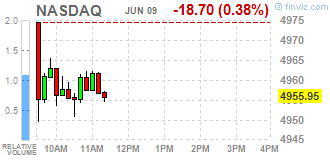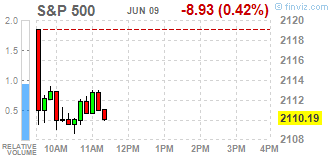 Most all of Dow stocks in negative area (22 of 30). Top looser - American Express Company (AXP, -1,61%). Top gainer - NIKE, Inc. (NKE, 0,87%).
Almost all of S&P sectors also in negative area. Top looser - Basic Materials (-1,0%). Top gainer - Utilities ( 0,2%).
At the moment:
Dow 17855.00 -43.00 -0.24%
S&P 500 2102.00 -7.00 -0.33%
Nasdaq 100 4505.50 -5.50 -0.12%
Oil 50.85 -0.38 -0.74%
Gold 1271.70 9.40 0.74%
U.S. 10yr 1.68 -0.03