10.06.2016 14:42
Wall Street. Major U.S. stock-indexes fell
Major U.S. stock-indexes fell as global growth worries and a sharp drop in oil prices sent jitters through Wall Street. Despite higher demand, oil eased as traders booked profits after a three-day winning streak that started Monday and pushed prices to 2016 highs, and as the dollar moved higher. Financial stocks came under pressure again as global issues, including uncertainty over interest rate hikes and the impending vote on Britain's membership in the European Union, sent investors scurrying to safe haven assets.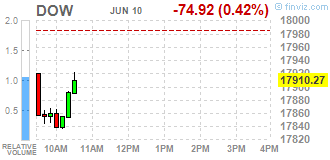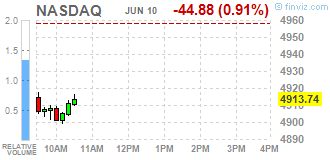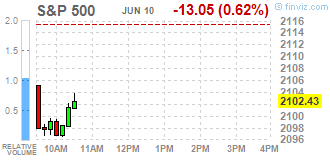 Most all of Dow stocks in negative area (25 of 30). Top looser - The Goldman Sachs Group, Inc. (GS, -1,87%). Top gainer - Verizon Communications Inc. (VZ, 0,59%).
All S&P sectors in negative area. Top looser - Conglomerates (-1,9%).
At the moment:
Dow 17790.00 -92.00 -0.51%
S&P 500 2091.50 -13.75 -0.65%
Nasdaq 100 4467.00 -37.50 -0.83%
Oil 49.92 -0.64 -1.27%
Gold 1277.50 4.80 0.38%
U.S. 10yr 1.63 -0.05