13.06.2016 16:34
Major U.S. stock-indexes little changed on Monday, a day before the Federal Reserve commences its policy meeting. The U.S. Federal Reserve Open Market Committee (FOMC) will meet on Tuesday and Wednesday to decide when to raise interest rates for the second time in nearly a decade.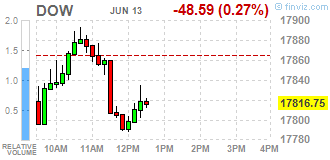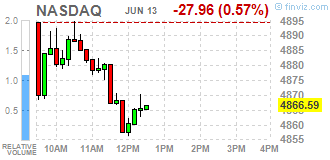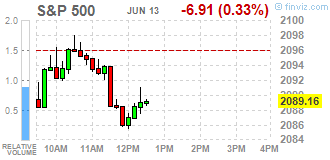 Most all of Dow stocks in negative area (23 of 30). Top looser - Microsoft Corporation (MSFT, -2,88%). Top gainer - Exxon Mobil Corporation (XOM, 0,91%).
All S&P sectors in negative area. Top looser - Conglomerates (-1,0%).
At the moment:
Dow 17720.00 -56.00 -0.32%
S&P 500 2079.25 -8.00 -0.38%
Nasdaq 100 4427.25 -30.75 -0.69%
Oil 48.83 -0.24 -0.49%
Gold 1286.40 10.50 0.82%
U.S. 10yr 1.61 -0.03