14.06.2016 15:00
Wall Street. Major U.S. stock-indexes fell
Major U.S. stock-indexes fell on Tuesday as investors kept to the sidelines ahead of the Federal Reserve's policy meeting and a referendum on Britain's European Union membership. The Federal Open Market Committee (FOMC) will commence its two-day meeting on Tuesday to decide whether the U.S. economy has recovered enough to be able to absorb an interest rate hike. While traders have discounted a hike this month, they will parse Fed Chair Janet Yellen's speech at a conference on Wednesday for clues on the health of the economy and the trajectory of hikes.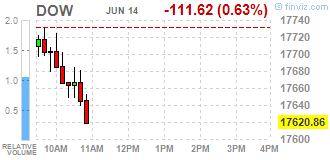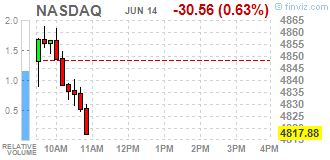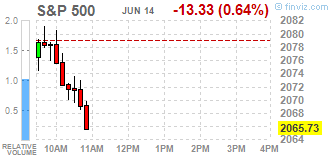 Most all of Dow stocks in negative area (22 of 30). Top looser - American Express Company (AXP, -2,79%). Top looser - General Electric Company (GE, 0,62%).
All S&P sectors in negative area. Top looser - Conglomerates (-1,2%).
At the moment:
Dow 17546.00 -93.00 -0.53%
S&P 500 2059.25 -10.50 -0.51%
Nasdaq 100 4398.25 -20.50 -0.46%
Oil 48.25 -0.63 -1.29%
Gold 1288.30 1.40 0.11%
U.S. 10yr 1.60 -0.01