15.06.2016 16:18
Wall Street. Major U.S. stock-indexes rose
Major U.S. stock-indexes higher on Wednesday after four days of losses as lower chances of an interest rate hike whet investor appetite for risk. Fed Chair Janet Yellen had hinted at higher chances of a rate hike than the markets had priced in, but weak May jobs data and economic repercussions of a possible Brexit forced her to take a dovish stance last week.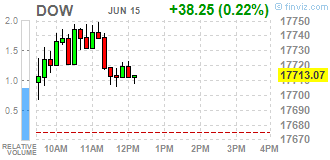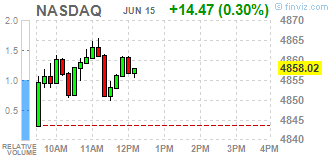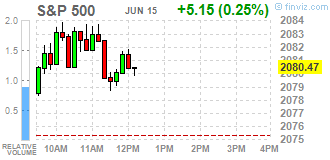 Dow stocks mixed (14 in positive area, 16 in negative). Top looser - Intel Corporation (INTC, -1,07%). Top gainer - The Home Depot, Inc. (HD, 1,64%).
Most of S&P sectors in negative area. Top looser - Utilities (-0,7%). Top gainer - Conglomerates ( 0,8%).
At the moment:
Dow 17629.00 57.00 0.32%
S&P 500 2072.75 6.75 0.33%
Nasdaq 100 4421.25 3.25 0.07%
Oil 48.40 -0.09 -0.19%
Gold 1287.90 -0.20 -0.02%
U.S. 10yr 1.59 -0.01