20.06.2016 15:24
Wall Street. Major U.S. stock-indexes rose
Major U.S. stock-indexes sharply higher on Monday, with the S&P and the Dow recovering last week's losses, after polls over the weekend showed an increased possibility of Britain remaining in the European Union. Global markets went into a tizzy last week as investors unsure over the fallout of Britain's vote on Thursday fled to safe-haven assets such as the yen and gold.
Oil prices were on track to mark their largest two-day rise in a month as investor confidence in the risky asset rose and the strength of the dollar weakened.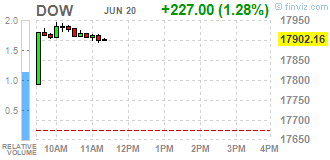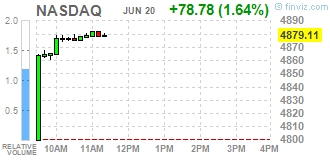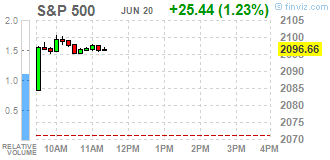 Almost all of Dow stocks in positive area (29 of 30). Top looser - Verizon Communications Inc. (VZ, -0,54%). Top gainer - The Boeing Company (BA, 2,83%).
Almost of all S&P sectors also in positive area. Top looser - Utilities (-0,3%). Top gainer - Financial ( 2,0%).
At the moment:
Dow 17810.00 251.00 1.43%
S&P 500 2088.25 29.25 1.42%
Nasdaq 100 4434.75 75.25 1.73%
Oil 49.75 1.19 2.45%
Gold 1287.50 -7.30 -0.56%
U.S. 10yr 1.67 0.06