21.06.2016 15:48
Wall Street. Major U.S. stock-indexes little changed
Major U.S. stock-indexes little changed on Tuesday after Federal Reserve Chair Janet Yellen said the central bank would be cautious in raising interest rates given risks such as Britain's membership in the European Union and a slowdown in the U.S. labor market. The central bank left interest rates unchanged and cut the economy's growth forecast last week after surprisingly weak monthly hiring data put the economy's recovery in question. Britain's vote on its EU membership on Thursday has left investors nervous over its repercussions on the U.S. markets.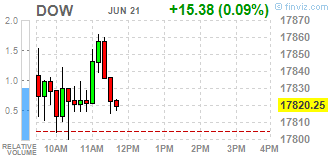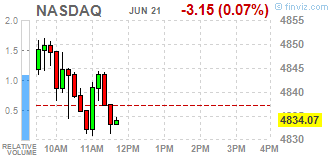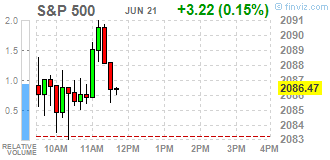 Most of all of Dow stocks in positive area (23 of 30). Top looser - McDonald's Corp. (MCD, -0,74%). Top gainer - Microsoft Corporation (MSFT, 1,84%).
S&P sectors mixed. Top looser - Healthcare (-0,3%). Top gainer - Consumer goods ( 0,7%).
At the moment:
Dow 17723.00 11.00 0.06%
S&P 500 2077.50 3.25 0.16%
Nasdaq 100 4394.75 4.75 0.11%
Oil 49.27 -0.69 -1.38%
Gold 1273.70 -18.40 -1.42%
U.S. 10yr 1.68 0.01