22.06.2016 06:10
6 Reasons EUR/USD won't collapse on Brexit - Deutsche Bank
6 Reasons EUR/USD won't collapse on Brexit:
1. Brexit will likely rule out a July Fed rate hike. US yields will drop. On the flipside, we are already pricing 15bps of depo cuts from the ECB and are unlikely to price more - Draghi has suggested that aggressive rate cuts are unlikely.
2. The euro out-performs on risk-aversion. Europeans have historically repatriated foreign assets during periods of uncertainty and the correlation between equity markets and the euro trade-weighted is negative.
3. The market may not only re-asses the "anti-establishment" political risk premium in Europe but also in the US ahead of the November Presidential election.
4. It is difficult to identify an immediately relevant liquidity or credit event in the financial system that causes systemic stress in the Euro-area. The central bank liquidity backstop is strong and public statements the day after the referendum will re-enforce this.
5. The time lags and inter-play between Brexit and other EU political events are long and unquantifiable. There is no other referendum planned in Europe. If the Spanish election this Sunday is close to expectations the market may struggle with identifying a catalyst for a continued re-pricing of risk.
6. After gapping lower EUR/USD rallied around the Grexit referendum experience last year (chart 1) - yet the direct knock-on effect on the Eurozone back then was even easier to identify.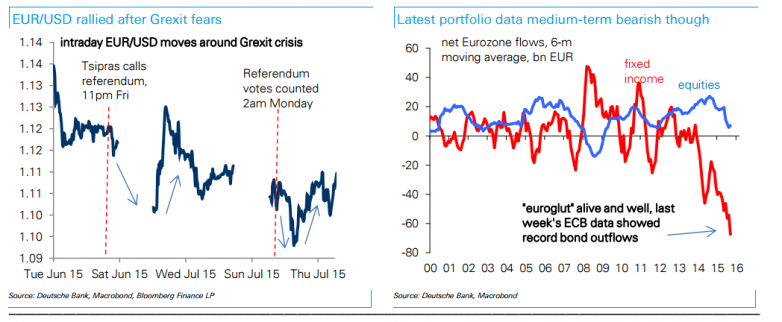 In sum the outcome of the UK referendum would not change our medium-term bearish EUR/USD outlook: political and institutional uncertainty will likely weigh on Eurozone growth, defer ECB tightening and reduce the attractiveness of Euro assets at a time when outflows are at a record high (chart 2). But these factors will take time to play out, and in the near-term countervailing drivers may end up being supportive of EUR/USD.
We wouldn't anticipate a bigger than 2% initial move lower in EUR/USD on "Brexit" and the risk may be that EUR/USD ends up squeezing the other way.