22.06.2016 17:16
Wall Street. Major U.S. stock-indexes fell
Mojor U.S. stock-indexes slightly fell on Wednesday after a new poll moderated expectations that Britain will vote to remain in the European Union. A survey by polling firm Opinium showed the campaign for Britain to leave the EU holds a one-point lead over the "In" camp ahead of Thursday's referendum. Though polls are extremely close, bookmakers had been pointing to betting patterns in favor of the U.K. remaining in the EU.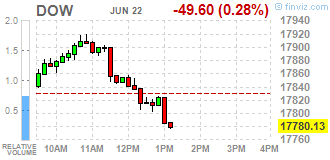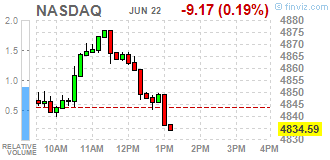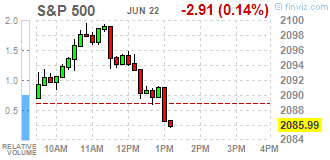 Dow stocks mixed (15 in positive area, 15 in negative). Top looser - McDonald's Corp. (MCD, -1,77%). Top gainer - Merck & Co. Inc. (MRK, 1,05%).
Almost of all S&P sectors also mixed. Top looser - Conglomerates (-0,3%). Top gainer - Healthcare ( 0,5%).
At the moment:
Dow 17715.00 -22.00 -0.12%
S&P 500 2080.50 0.00 0.00%
Nasdaq 100 4405.00 4.75 0.11%
Oil 49.12 -0.73 -1.46%
Gold 1271.30 -1.20 -0.09%
U.S. 10yr 1.70 0.01