30.06.2016 16:42
Major U.S. stock-indexes higher on Thursday as consumer staples stocks rose after reports that Oreo cookies maker Mondelez had made a bid to buy Hershey Co. The three major indexes have recouped more than half of the losses suffered after a shock vote by Britain to leave the European Union. In a two-day panic selloff after the vote, global markets lost about $3 trillion in value.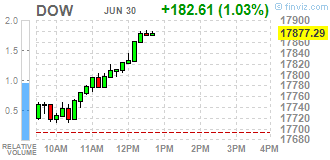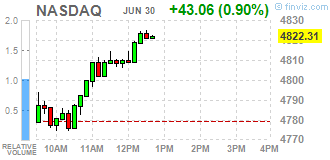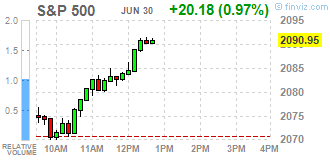 Almost all Dow stocks in positive area (28 of 30). Top looser - Visa Inc. (V, -2,40%). Top gainer - General Electric Company (GE, 2,27%).
All S&P sectors in positive area. Top gainer - Consumer goods ( 1,6%).
At the moment:
Dow 17775.00 151.00 0.86%
S&P 500 2082.75 16.00 0.77%
Nasdaq 100 4396.00 33.25 0.76%
Oil 48.82 -1.06 -2.13%
Gold 1320.30 -6.60 -0.50%
U.S. 10yr 1.46 -0.02