01.07.2016 15:54
Major U.S. stock-indexes rose for the fourth straight day as increased prospects of central bank stimulus around the world bolstered investor confidence. Investors were also taking stock of their holdings after a tumultuous week in the wake of Britain's vote to leave the European Union. The vote sparked a two-day panic selloff, but markets clawed back their losses in the last three days.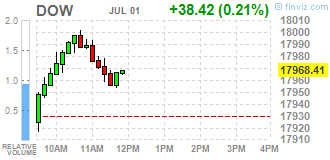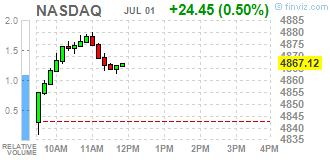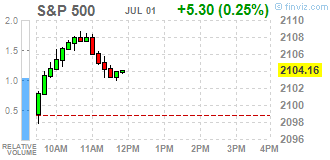 Most of all Dow stocks in positive area (20 of 30). Top looser - JPMorgan Chase & Co. (JPM, -1,13%). Top gainer - The Home Depot, Inc. (HD, 1,85%).
Most of all S&P sectors also in positive area. Top looser - Utilities (-0,3%). Top gainer - Services ( 1,0%).
At the moment:
Dow 17857.00 38.00 0.21%
S&P 500 2095.50 5.25 0.25%
Nasdaq 100 4433.75 26.75 0.61%
Oil 48.33 0.00 0.00%
Gold 1339.50 18.90 1.43%
U.S. 10yr 1.46 -0.03