05.07.2016 16:03
Major U.S. stock-indexes lower on Tuesday as oil prices kept sliding and tepid U.S. data added to global growth worries. Oil prices were down more than 4% as a potential economic slowdown weighed on prospects of demand.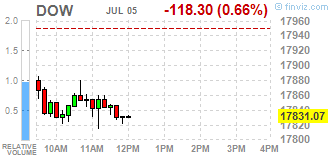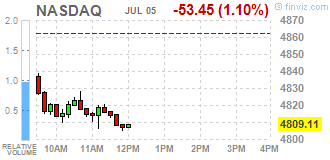 Most of all Dow stocks in negative area (20 of 30). Top looser - Caterpillar Inc. (CAT, -2,77%). Top gainer - Johnson & Johnson (JNJ, 1,38%).
Almost all of S&P sectors also in negative area. Top looser - Basic Materials (-2,3%). Top gainer - Utilities ( 0,3%).
At the moment:
Dow 17729.00 -137.00 -0.77%
S&P 500 2076.75 -19.50 -0.93%
Nasdaq 100 4389.25 -44.00 -0.99%
Oil 46.86 -2.13 -4.35%
Gold 1352.90 13.90 1.04%
U.S. 10yr 1.36 -0.09