06.07.2016 14:49
Tesla Motors (TSLA) shares - US car company in Silicon Valley focused on the production of electric vehicles fall on Wednesday, as the company talked to regulators about the fatal accidents involving a Tesla car who was riding on "autopilot". The event took place nine days earlier.
Tesla found out about the Model S sedan crash in Florida after the accident on 7 May. On May 16th the company reported the accident to the government, according to Reuters.
On June 30 The National Authority for Road Safety (NHTSA) has announced an investigation.
The technology is one of the most advanced and promoted by Tesla, but is still in test mode.
However, according to Elon Musk, Tesla autopilot is safer than human control, since the first deadly incident occurred after Tesla autopilot 200 million km, while the world average for a lethal accident is 100 million km.
TheStreet Ratings has assigned the rating to "sell."
"You can see the weaknesses of the company in many areas, such as deterioration of its net income, generally high risk debt, disappointing return on equity, weak operating cash flow and generally disappointing historical performance shares themselves", - noted the TheStreet.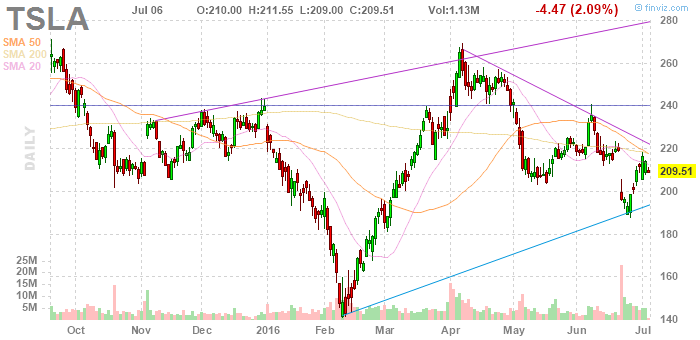 Currently, shares traded at $ 209.51 (-2.09%).