06.07.2016 13:26
GBP: en-route towards 1.25 over coming weeks - NAB
"To the outside world the UK is a laughing stock. How could the world's 6th largest economy (depending on how you measure it) go against the advice of three-quarters of MPs, the IMF, BoE, business, not to mention the majority of private economists and tear up over 40-years of EU membership? The vote has seen the UK Prime Minister resign, enacted chaos in Her Majesty's official opposition, pushed Scotland and Northern Ireland to the brink of wanting their own referendum and has seen ratings agencies take the knife to the UK's coveted AAA sovereign rating. Worse. It is not only clear the UK has no leader and no functioning opposition, but apparently no plan; such is the shock and unpreparedness.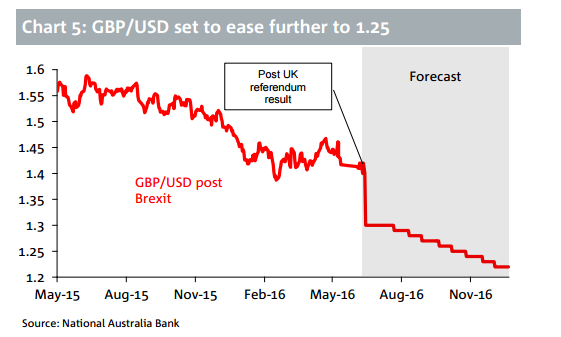 Capital outflows seem likely and the BoE appears to be doing its bit to try and ensure the exchange rate is where a large part of the adjustment is seen. Thus we expect to hear more BoE talking down of GBP and in that sense take some of the burden off the Bank in cutting rates.

We place the probability of a 25bp rate cut in August at 35-40%. We expect GBP to drift to 1.25 over coming weeks and to as low as $1.20 in 2017. It will take EU political issues to set off EUR weakness and a reversal in the EUR/GBP uptrend".