06.07.2016 16:33
Major U.S. stock-indexes pared losses in late morning trade on Wednesday as robust economic data and recovering oil prices helped alleviate investor concerns about a global economic slowdown.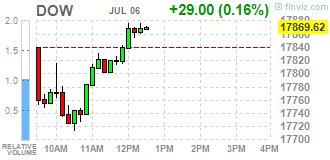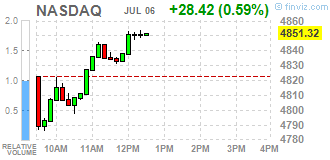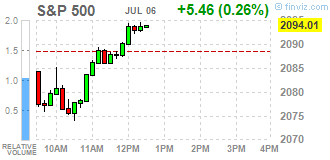 Most of all Dow stocks in positive area (20 of 30). Top looser - E. I. du Pont de Nemours and Company (DD, -1,46%). Top gainer - Merck & Co. Inc. (MRK, 1,45%).
S&P sectors mixed. Top looser - Conglomerates (-1,2%). Top gainer - Healthcare ( 0,8%).
At the moment:
Dow 17772.00 10.00 0.06%
S&P 500 2085.75 3.00 0.14%
Nasdaq 100 4431.50 27.50 0.62%
Oil 47.02 0.42 0.90%
Gold 1366.90 8.20 0.60%
U.S. 10yr 1.39 0.02