With employment data on Friday coming in very positive traders now see little reason for FED not to raise rate in December, which paints a bullish Greenbac scenario in the weeks ahead. 


Large Speculators reported positions (data from CFTC)
- Traders increased their long exposure to the Greenback for a second consecutive week leading up to the strong Non-farm data, so we can only expect this trend to continue when the data is released next week judging from the extremely bullish close on the USD Index on Friday. The theme of buy USD, sell everything else has returned and likely to continue as we head into the anticipated FED rate rise in December. 
- EUR and JPY saw traders increase their short exposure, making USDJPY longs and EURJPY shorts the higher probability trades on D1 over the coming week/s.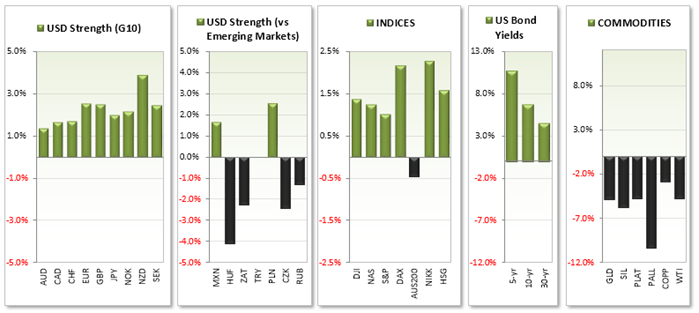 China: Official China's trade surplus hit an all-time high over the weekend to show further evidence of how global growth is likely to remain subdued in the fpreseeable future. Imports were down for a 12th consecutive month at -18.8% with imports down -6.9% compared to previous. Key calendar events traders will look forward to this week are CPI tomorrow (1.5% expected, down from 1.6% previous) and Industruial Production y/y. 

United States: US Non-farm Payroll exceeded expectations to create 271k jobs compared to the 181k expected. Average hourly earnings were up 0.4% m/m sending the USD Index to its highest level since April and within striking distance of the multi-year highs. 

Europe: German factory orders and industrial production both missed expectations and contracted unexpectedly last week. This adds further concern for the Eurozone's largest economy at a time when ECB are weighing up how much to expand their current QE program (and drive Euro lower). Once this scenario is combined with the stronger data from US and expectations of the famous rate hike then traders have the perfect diverging theme to capitalise on, making EURUSD one of the preferred trends to jump on the back on and drive it down towards parity. This week Draghi speaks three times and we have German GDP which is fighting to stay above 0% (so plenty of potential for a lower Euro this week). 

United Kingdom: The Bank of England pretty much poured cold water of an earlier rate hike last week with their inflation report. This week we have one of the few decent numbers to come out of the UK in form of average earnings so if we see weakness here expect a lower GDP has rate hike is pretty much annulled. 

Australia: Cash rates remained on hold and the obligatory threat of a rate cut remained in the statement. However in the monetary policy statement RBS appear to have called a top with their unemployment rate and this week just so happens to present employment data. Unemployment is expected to remain at 6.2% but any move above 6.4% (previous multi-year highs) will only add further pressure to AUD which is only pips away from breaking below 70c.

Canada: The Canadian Dollar had a tough week following the strengthening greenback and weaker oil prices. Building permits, which contracted for a 2nd consecutive month, helped provide a further boost higher for USDCAD which has now tested 1.33 and clearly in bull mode and is a currency pair which is likely to attract buying interest upon any dips. 

New Zealand: Weaker dairy prices and higher unemployment saw the Kiwi Dollar extend losses last week, so traders will now focus on the FInancial Stability Report and Graeame Wheeler to see if thete us further evidence of subseqwuent rate cuts.