As we enter the last trading session of the week, we can take a forward look at next week's events to look for likely catalysts for tradable FX moves. 
- Please view WEEKLY WRAP for a summary of last week's events and money flow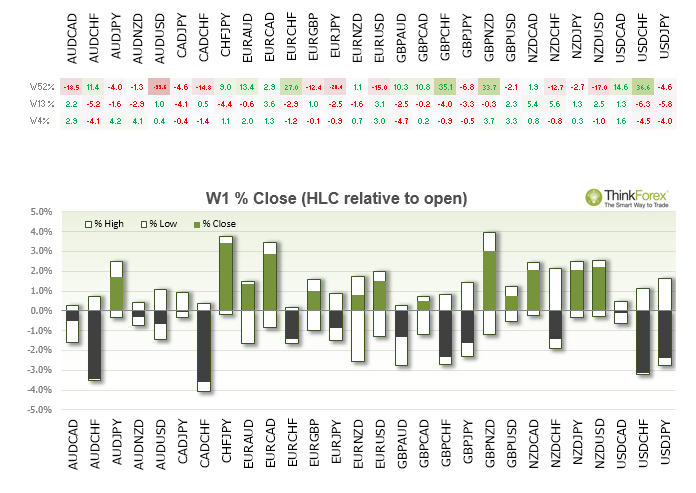 View Economic Calendar

United States: US The labor market conditions index, designed by the FED to better represent overall conditions, has failed to back up the positive numbers seen in NFP. That said, barring the previous month of zero, it has been positive for 5 months. JOLTS job openings continues to paint a brighter picture and confirm the steady downtrend with US unemployment so any dips on this read are likely to be temporary. Unemployment claims also sits near multi-decade lows but this number may have more of an impact if today's Non-farm payroll data sets a downside surprise. Friday presents the final retail sales of the year but, unless shoppers have crammed in their last minute shopping surprisingly early this year, we're more likely to see a bigger number in Jan. PPI (purchase price index) has failed to break above zero for the past 3 months but if we see a negative number on Friday it will be the first occurrence in December since 2009. 

China: Trade balance on Monday will confirm of Chinese imports remain a concern for Australian and New Zealand's export market. Currently sitting near record high, it is elevated due to imports declining more than their exports. Both however are within steady downtrends. Inflation on Tuesday will confirm if we see a 3rd consecutive reduction, having seemingly topped at 2% in September. That said, M2 money supply on Wednesday may provide a lifeline if its uptrend continues, as monetary supply tends to lead inflation upon any upwards trajectory. Industrial Production is yet another data set which continues to send warnings about the world's 2nd largest economy and has been in a steady downtrend since its March 2010 peak. So if we are to see an upside surprise it may instil a 'risk-on' trading session to help support AUD, NZD and stocks. 

Europe: German industrial production contracted in Oct and Nov, so a 3rd negative print could help justify further ECB easing (despite Germany raising concerns). Quarterly GDP is to be revised but unless there is a significant adjustment the impact is likely to be limit. LTRO on Friday reveals how much demand there is for financing from banks following the recent rate cut by ECB. 

United Kingdom: Manufacturing production has expanded at its fastest rate since April 2014 and Tuesday will confirm if a 3rd expansionary month has been achieved. Following comments from BoE regarding rates remaining on hold for "some time" effectively renders the rate vote and rate decisions non-events but perhaps we will get extra details from the policy summary. Or maybe not. 

Australia: TD securities inflation read has been trending higher and expected to come in around 1.8. Business and consumer confidence have provided positive signals since Malcolm Turnbull took over as PM, and we'll find out if his leadership continues improve sentiment. House prices finally fell last month in Sydney and Melbourne, so traders will be interested to see if home loans have also decline to suggest APRA's macro prudential tools are finally curbing the feared housing bubble. Wednesday's employment data is the calendar highlight where another read below 6% will surely help strengthen the Australian Dollar as expectations of any cash rate changes get pushed further into 2016. 

Canada: The Canadian housing market echo's bubble fears of Australia, so housing starts and building permits will continue to remain in focus. Building permits have contracted the past 3 month and if this trend continues, one has to assume the supply side won't meet demand to provide further upward pressure on prices. Goc Poloz speaks on Tuesday where he may provide further clues on any monetary policy. However at it stands we see no immediate threat of a rate cut over the next few months, although oil prices could change things if we see them break to new lows. 

New Zealand: Manufacturing sales expanded modestly last quarter at 0.4 but this followed on from 4 prior quarters of significant contraction (so too soon to see if we are out of the woods). Perhaps another negative read may prompt RBNZ to deliver the rate cut on Wednesday. Previous statements have all but confirmed another rate cut is inevitable (along with a weaker NZD) so be on a guard for such an event this week. On a brighter note, the business manufacturing index continues to strengthen, so not all is doom and gloom in an economy which continues to pay the highest interest rate among G10 countries.