The first trading session of the year is off to a surprisingly lively start following further signs of weakness from China's manufacturing sector.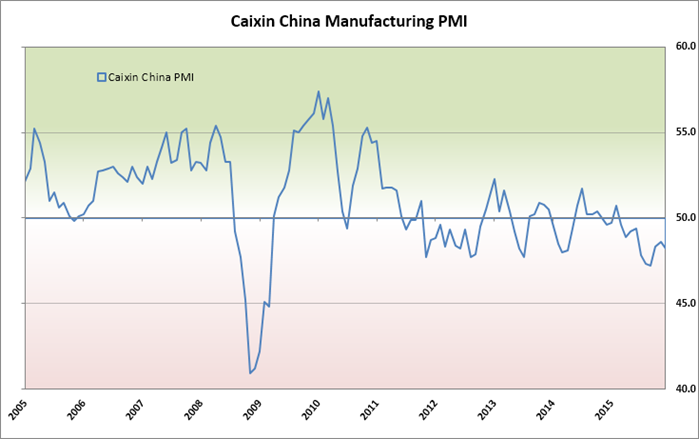 Whilst the first half of January trading tends to be on the quiet side for traders, today's reaction to China clearly says otherwise. AUD and NZD wasted no time in selling off whilst global equities also began to slide. As this is now the tenth consecutive contraction for manufacturing sector then concerns for Chinese and global growth appear far from over. 

Any weakness from China feeds into fears of a global slowdown and weaker commodity prices. If these themes persist then it is hard to imagine how Central Banks around the world will be able to escape the 'race to the bottom' with many still grappling with historically low interest rates. The only thing for certain right now is that it has been a volatile start to 2016 and is a market condition I expect to remain well into the year. 

Summary of Caixin's PMI report
- Operating conditions deteriorated
- Production declined for seventh consecutive month
- Client demand down both domestically and overseas
- New exports down for first time in three months
- Manufacturing trimmed staff and reduced purchase activity
- Business conditions have detreated ten consecutive months




As would be expected, NZD and AUD were the hardest hit whilst Euro, GBP and USD became the safe havens. It will be interest to see how markets react during the European and US sessions as they are yet to absorb the news. 

Global Indices also toppled, seeing Nikkei 225 drop to a 51 session low, the S&P500 a 7 session low whilst the ASX200 remained relatively unscathed.