If falling oil prices, geopolitical tensions and shocking global growth wasn't enough excitement to kick start the year then perhaps employment from US and Canada tonight may be the icing on the cake.  ​

There are plenty of themes surrounding global markets but USDCAD has to be one of the few which is directed by all of them. Whilst Oil continues to plummet (with WTI being down -15% for the week yesterday) then Canadian Dollar is suffering. So to see their Ivey PMI read overnight should have, in theory, pushed USDCAD to new highs.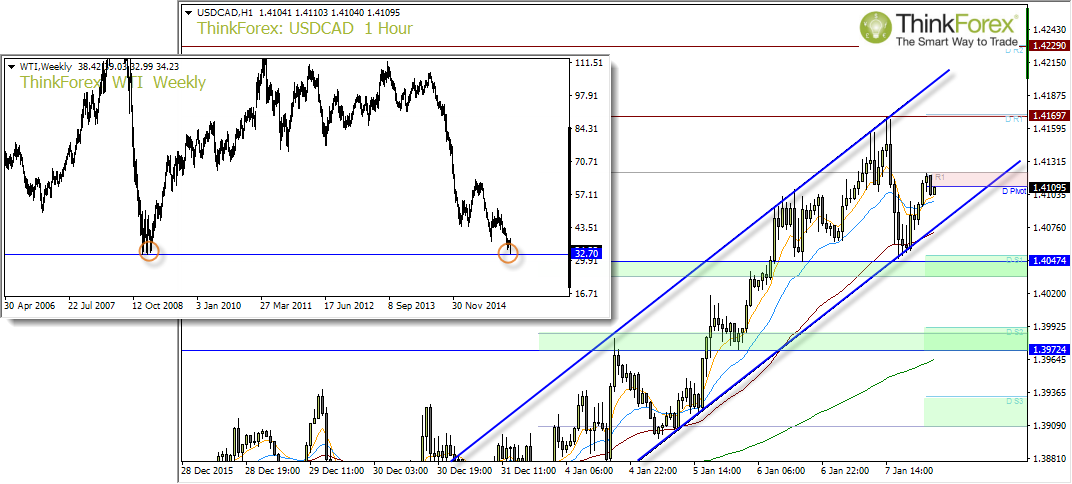 However it appears WTI is actually helping here as it has approached a critical juncture. The inner chart show weekly WTI and how it has stalled above the GFC lows. It is of no surprise to me that it has not broken upon first attempt as this is such a milestone for oil to trade below. In turn this has helped keep USDCAD capped whilst Oil traders decide what to do next. 

I suspect Oil will break below this key level and then traders will be eyeing up the monumental break below $30 a barrel. Even only a couple of months ago the thought of WTI trading in the 20-30 range was unimaginable but here we are. 

As for the PMI data the headline figure has dipped below 50 (contracting) to 49.9. It has been dragged down by a sudden decline in the inventories index but there is a glimmer of hope for Canadian employment as it has expanded at its fastest rate since Nov '13. 

Perhaps this will provide a lead for today's Nonfarm Payroll set, which see both US and Canada release jobs data. Whilst it is expected for US to create around 200k jobs and keep a steady unemployment rate, I suspect recent data from US will weigh more upon the US than another 'ok' employment data set will help it. So if we are to see a downside surprise from US tonight this alone should toppled USDCAD. We may also be in for a positive surprise from Canadian employment if the Ivey PMI read is anything to go by.