A turbulent week in global markets finishes off with the traders favourite; Non-farm payroll. 
View related post - Non-farm payroll key levels


USDCAD and CADJPY are markets worth monitoring for tonight's NFP data set. As mentioned in today's post on USDCAD there may be an upside surprise for Canadian employment and, if combined with a surprise downside shock for US NFP then will surely help topple USDCAD from the multi-year highs (again....)

That said there is already an expectation for Canada to create 10k jobs following last month's disastrous -35k shocker. Although if the Ivey PMI employment component does provide the lead then perhaps 10k will be more than easily beaten today.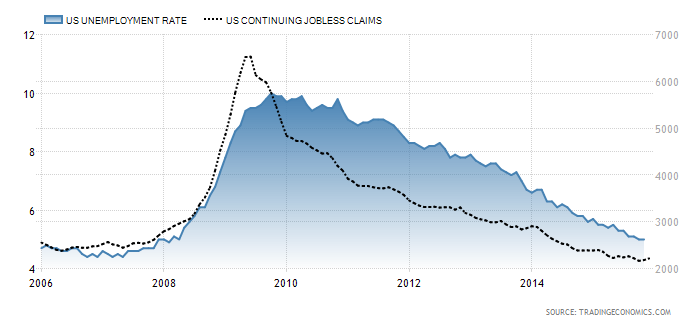 Traders have become accustomed to the unemployment rate remaining at 5%. However if you look at the recent rise on the continuous jobs claims then it suggests we may see a tick higher. Regardless, unless we see a surprise upside move of 0.2-0.3%, the unemployment rate is less likely to send a jolt through the markets. As the year progresses I'll be keeping a close eye on the employment components within both manufacturing and services sector ISD PMI reads, as this tends to lead growth and employment by 6-12 months. At present manufacturing employment is within contraction whilst services continues to expand, so this suggests that for the foreseeable future, unemployment is likely to remain around the 5% or even dip below (albeit the occasional glitch).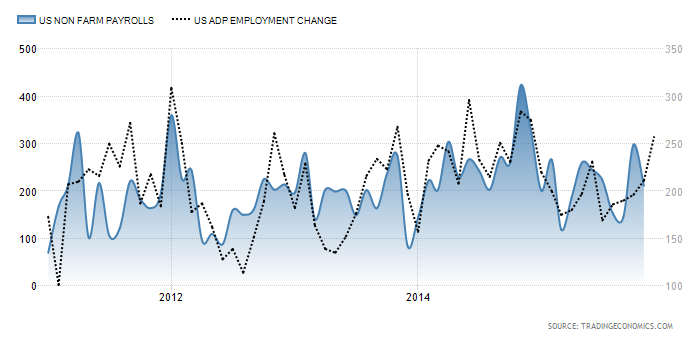 Here I have compared the ADP employment change with non-farm payrolls. The ADP was created to try and anticipate the NFP read and, whilst not perfect, overall does a fairly reasonable job. Data out this week shows the ADP figure at 257k jobs created, its' highest since July '14. This suggests an upside surprise for NFP but take note that there are only 203k forecast, which follows on from 211k last month. I prefer to see deviations of at least 60k either side of the forecast before I expect a more meaningful move, so we'd be looking for 260k or more for sustainable bullish setups or 153k or less for bearish. However as we have become accustomed to printing over 200k jobs per month we could anticipate further downside for the USD if we get a shock to the downside.